DJ Genius: Simple Media Player & Tag Editor With Online Radio
iTunes has become the heart and soul of many music lovers around the globe, due to its support for all iOS devices and an elegant GUI. However because of its many features and heavy UI, it also kicks down your system performance. So, if you are looking for a trimmed down version of iTunes, which also supports sufficient amount of video formats, then try out DJ Genius. It is a simple, yet elegant media player and organizer which offers a simple, iTunes-like UI. The application lets you listen to your favorite songs either from your local music library or online radio. It features a tag editor for adding and editing metadata. Just like iTunes, it provides separate Music, Movie and Radio libraries, comes packed with Twitter integration and an audio recorder. Additionally, there is a DJ Store section of the app that you can set to open a music store of your choice. Keeping the aforementioned features in mind, one could say that DJ Genius is a very limited, lightweight and customizable iTunes. Details to follow.
The application consists of three main sections (Library, Genius And Store, Controls). Library holds subsections for playing music, videos and radio, and automatically scans for the available media if placed on under windows default User Files folder. All the navigation control of the app such as Play, Skip, Prev and Volume buttons are located at the bottom of the window, with an included Twitter shortcut.
For the first time when you head to Radio, you need to click Update Channels to list down all the available radio channels. Double-clicking the radio link starts the streaming right away.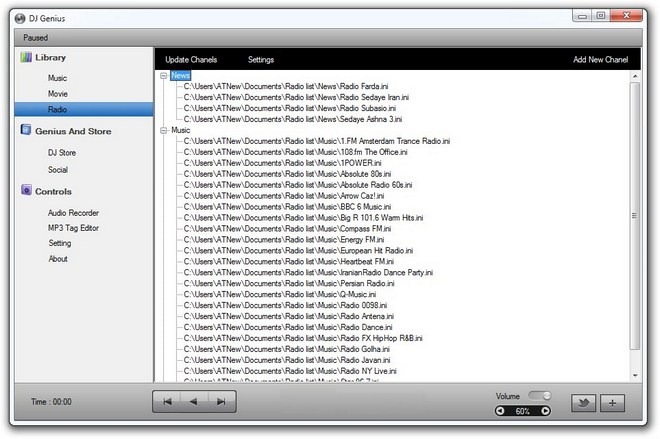 As mentioned earlier, the application also includes an integrated Twitter client, which lets you quickly post tweets. It may seem quite an unrelated feature to some, however it does allow you to instantly share any tune you're listening to, with your Twitter followers.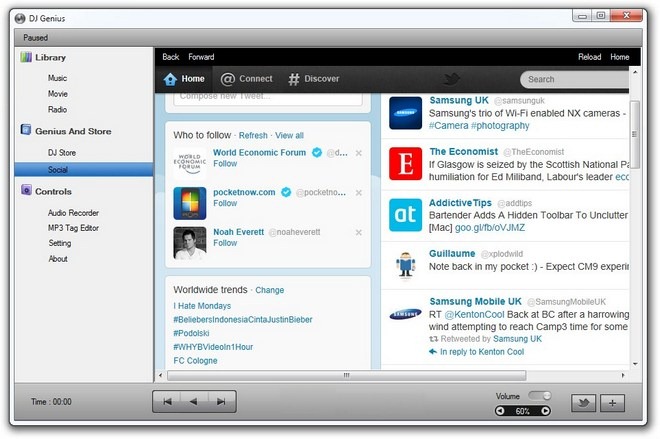 You can click MP3 Tag Editor to update Meta tag information of your music files. This section enables you to add information like title, track name, album, release year and genre etc., along with a album cover art.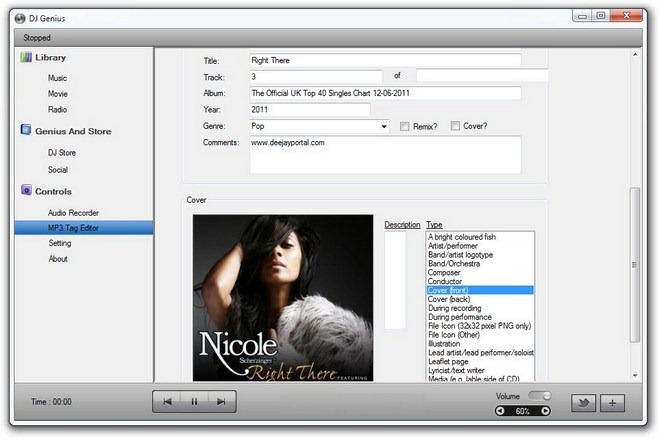 Hoping into the application's Settings panel lets you tweak a few application specific configurations. Here, you may set Output Balance under Player section,  export/import media library, set web store URL (Amazon by default) for the integrated DJ Store and install K-Lite Codec that unlocks support for additional media formats.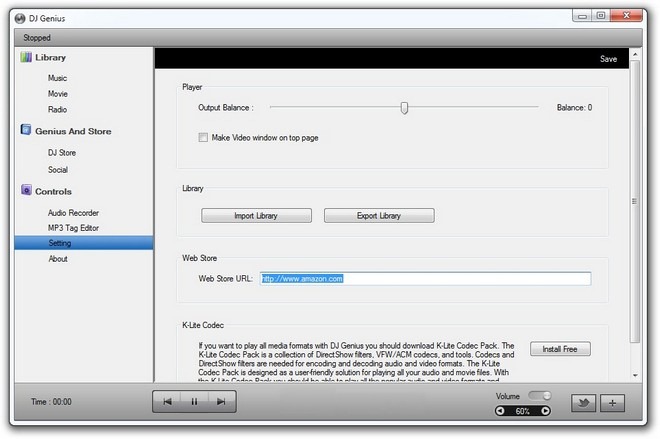 The application works on Windows XP, Windows Vista, Windows 7 and Windows 8. We tested the app on Windows 7 64-bit edition.