DJ1-Social Player: Listen To & Share Legal Music With Your Friends
Sharing is caring, and we live in an age where sharing has not only become much easier, but also, a lot more fun. Social networks have totally taken control of our lives, and it's suffice to say that people love spending their time on Facebook and Twitter. At AddictiveTips, we have covered a few different options that let you share what you're listening to, to your friends on different social networks, ranging from applications like CloudTune to online services such as ListenTo.Fm. DJ1- Social Player is another new entry which lets you share your music instantly with your friends on Facebook. The application has an integrated music player and a Facebook chat box. So when you're listening to your favorite tune and want to share it with your social community, just drag and drop it onto the chat box to instantaneously parcel it's link. This is a great new way of sharing your music as the application works on the bases of iCloud messaging, which lets you and your friends to enjoy the same music. Read past the jump to find how it works. The application comprises a stylish black interface with 3D flip menus. There are two separate application panels snugged in together. On first start, DJ1 automatically begins scanning your PC for media files to instantly generate your music library.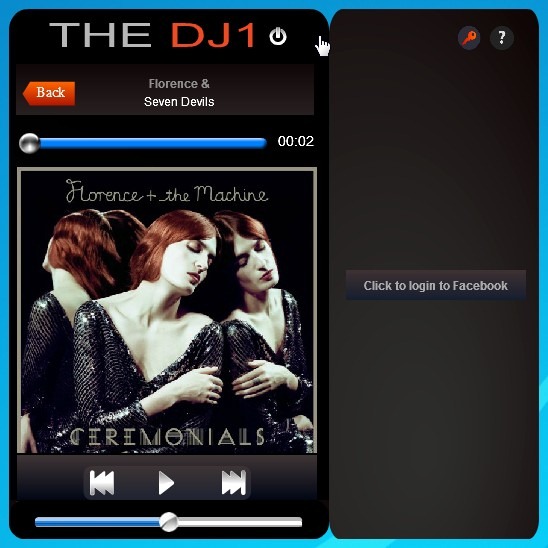 To get started, you first need to log in to your Facebook account, which asks for application permissions. Don't be too alarmed, as your ID information will be kept secure like other Facebook apps.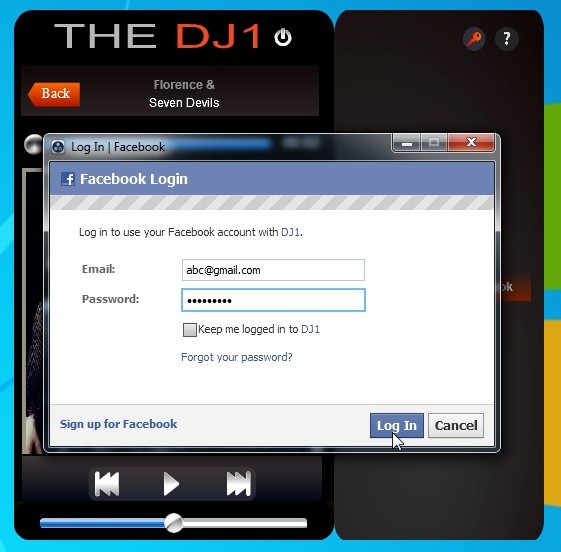 After successful login, you can start sharing your music with your friends. To share any track, you need to first record a loop of the song in your desired length. This helps in sharing either the whole track or just part of it where you have generated the loop. After your track is successfully looped, drag and drop it over your friend's name, which sends an instant message with the URL for your track. The recipient can therefore listen to that looped music by clicking on the provided link. The application also lets you create playlists and sort out the music according to artists or albums. You may also buy legal music by checking on to iTunes store integrated within the app. The list contains top songs currently available on the iTunes music store.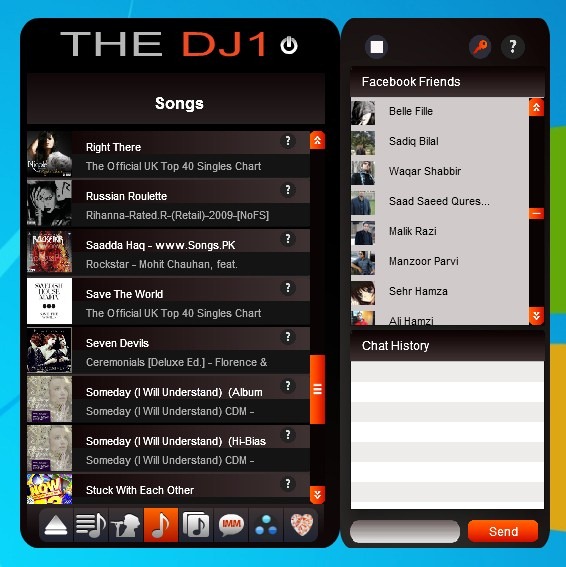 Though the procedure of sharing music may sound somewhat complicated to casual users, DJ1 is a great app to share your music collection among your friends. You may want to remember, however, that you can only share a song that is legally purchased and not downloaded off some sharing website or torrent. The application works on Windows XP, Windows Vista, Windows 7 and Windows 8, while an iPhone variant is also available on the iTunes App Store.
Download DJ1 for Windows
Download DJ1 for iPhone