Doc Backup – Small Backup Utility With Email Notifications, FTP, And Logging
Doc Backup is a handy opensource backup application to backup/copy your important documents, media files, project files on the disk, network drive, and on live server via FTP. The developer wrote this application to fill the voids he found in Cobian Backup (which he was using before for data backup). According to the developer, the reason behind developing this application was to provide user with incremental backup without compromising the FTP workability. Moreover, it comes with detailed log reporting system, you can verify and analyze the number of backup copies and problems respectively in real-time. If you're planning to backup an enormous data, it offers you email notification feature to keep you informed about the backup process. The most interesting feature is document backup to disk and to FTP site, hence the name, Doc Backup.
Since it offers a minimalistic interface without any fancy features and options to mess with, few clicks are required to get started. Before clicking Start, it requires you to configure some generic options and to specify backup schedule, email information (for notifications), FTP server (if needed), and Log type.
All the options are found under respective tabs, from Daily backup tab, specify time (in hours), under e-mail and FTP tabs, enter sender's email address, mail server, username/password, and FTP address, password & path respectively. Along with Incremental backup, it also offers creating of backup in Differential and Full mode. Backup and Log type can be changed from Advanced tab.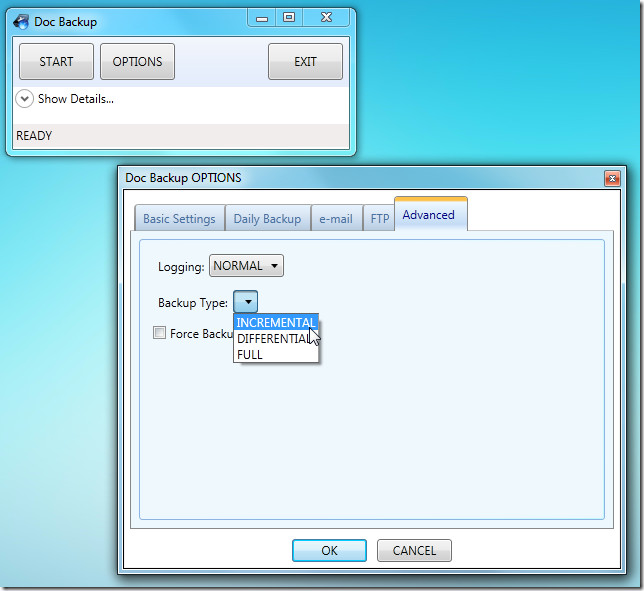 Once all settings are in place, head over to Basic Settings tab to select source and target locations, and enter filters (file types) to exclude files from backup process. Now click Start (on main interface) to begin the backup process. You can also view the details of all the files which are being backed-up by clicking Show Details button.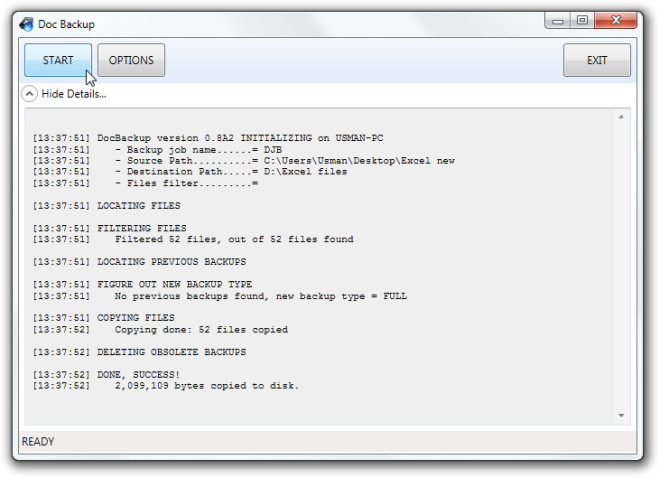 The application's executable file resides in bin/Release folder. It runs on all versions of Windows, testing was done on Windows 7 x86 system.
For more, have a look at previously reviewed advance backup applications, CopyTo Synchronizer, PureSync, Toucan, and  Yadis! Backup.