Download & Listen To Audiobooks In Windows 8
Reading books is a lot of fun for a lot of people. However, reading too much can put a lot of strain on your eyes. These days, we see a lot of books being converted into movies, but a lot of these movies do not do justice to the books. If you are a bookworm, give audiobooks a try. A book reading aid for blind people, audiobooks are also enjoyed by the able community, both children and adults. The way audiobooks work is that someone reads the book in his or her voice and makes a recording out of it. Anyone can listen to the recording and enjoy the book without actually having to read it themselves. It can be quite useful for people who are worried about putting too much strain on their eyes.
Audiobooks 8 is an app for Windows 8 that lets you download and listen to audiobooks. Having a collection of over 6000 free audiobooks at the moment, you can find books on a lot of categories, such as Adventure, Art, Children, Comedy, Fiction, History, Literature, Music, Poetry, Religion, Science and a lot more. Even though most of these books are in the English language, the database also has some of them in other languages, including Chinese, Dutch, French, German, Portuguese, Spanish, Swedish, etc.
In order to get the app, go to Windows Store, type "audiobooks 8" and press Enter. Hit the tile titled Audiobooks 8 and select install from the screen that follows.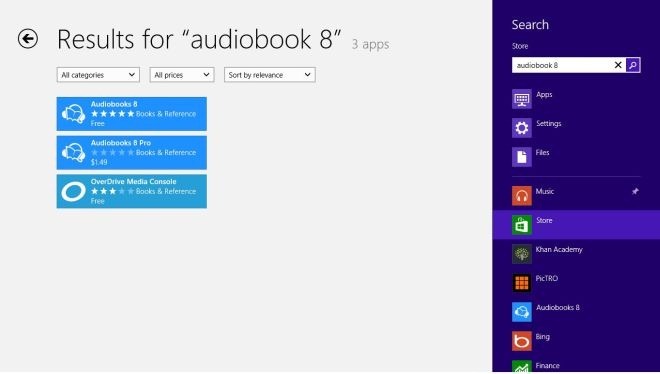 On launching the app, you will find new books grouped into different categories, such as New Releases, Science Fiction, History and Fantasy. Click the title of each category to view all the related books.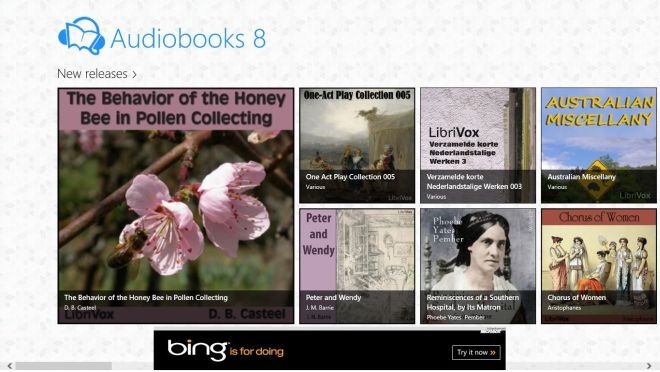 As soon as you select a book, the app starts downloading and playing the first chapter simultaneously. You can view the Details of the book including Genre, Language, Total Length, Total Size, Release Date and Description, and all the other chapters of the book in the form of Audio tracks. You may pause streaming or seek through a chapter using the playback controls below the book cover on the left, or select another chapter to stream it.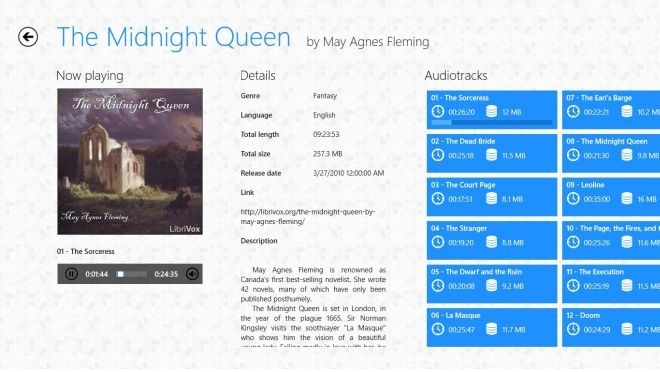 Right clicking anywhere brings up the app bar from where you can stop the app from downloading chapters and pin the audiobook to the Start Screen.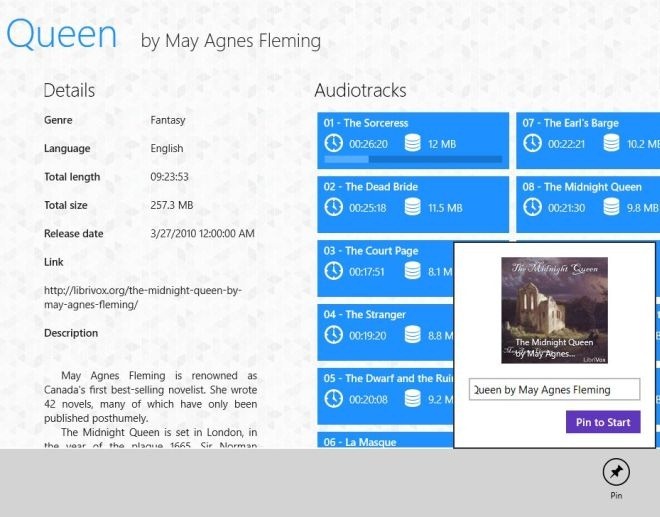 The pinned audiobooks can be launched directly from the Start Screen without having to launch the app first.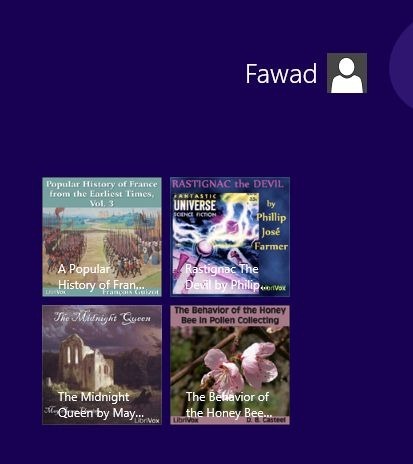 Scroll to the right side to view all the categories and languages available in the app. There are a lot of categories, including Adventure, Advice, Art, Children, Comedy, Economics, Fairy tales, Fiction, Holiday, Humor, Languages, Music, Nature, Philosophy, Poetry, Romance, Science, Spy Stories, etc.
Audiobooks 8 works on both 32-bit and 64-bit versions of Windows 8.
Get Audiobooks 8 from Windows Store