Download Online Videos Embedded Anywhere With GotClip
GotClip is a one-click online video downloading tool that focuses more on instantly downloading video clips instead of setting up lengthy configurations before downloading online videos. It supports all major online video sharing platforms including, YouTube, Dailymotion, Vimeo, Veoh, Google Videos, MetaCafe and more. You can also download flash videos embedded in any forum, blog, personal pages, etc. Unlike many other video downloaders, it allows you to download multiple videos at a time without hassling with adding video URLs each time to download them. You can create a list of videos you wish to download, insert them into GotClip, and it will start downloading them in one go.
Furthermore, with GotClip, you can pause downloading and resume it later. This feature makes it quite a unique downloader, considering the fact that many online video downloaders fail to pause the video downloading process, eventually forcing users to start the download process all over again.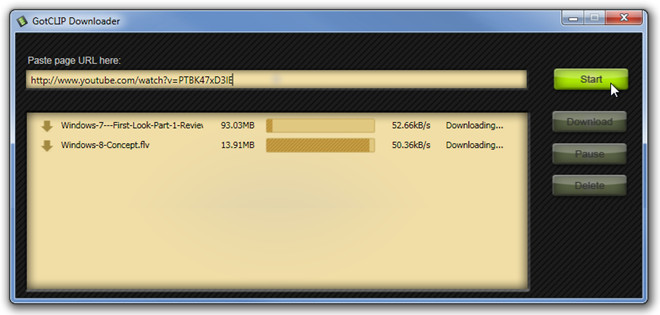 When you want to download the video clip, copy the video URL and paste in its pastebox followed by click Start to begin downloading. You can pause the downloading by selecting the video being downloaded and then by clicking Pause button; Download button will resume the downloading process. It works on Windows XP, Windows Vista, and Windows 7.