Download & Organize Flickr Photos On Desktop
Bulkr is a great desktop photo browser, downloader, and organizer developed exclusively for Flickr. You can quickly browse your photos, search public photos, or view any user's photostream with an option to download them.
Not only can you download your public and private photos, but can also download the photo sets and photos in the favorites.
The interface consists of two tabs – You and Flickr. The former allows you to backup photos, view photostream, sets and favorites with an option to download them, while the latter allows you to search for and download Flickr public photos.
When you start the app for the first time, click Connect to Flickr button to authorize the app to use your account.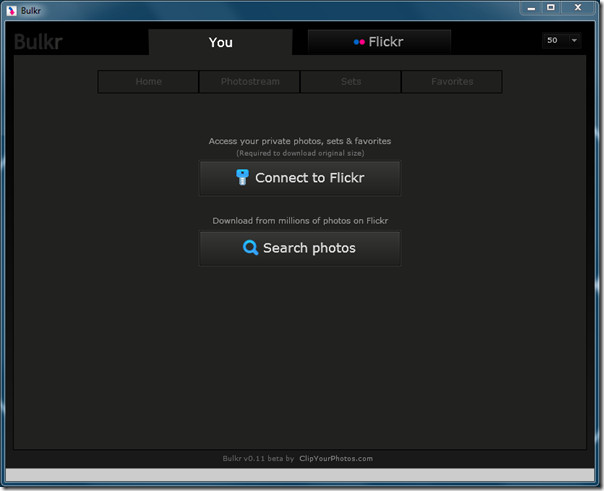 When done, under Home Tab, the Connect to Flickr button will be replaced by Download button which you can click to backup all your photosteam. Just specify the size of photos, the destination folder(where you want them to be backed up), and hit Start Download.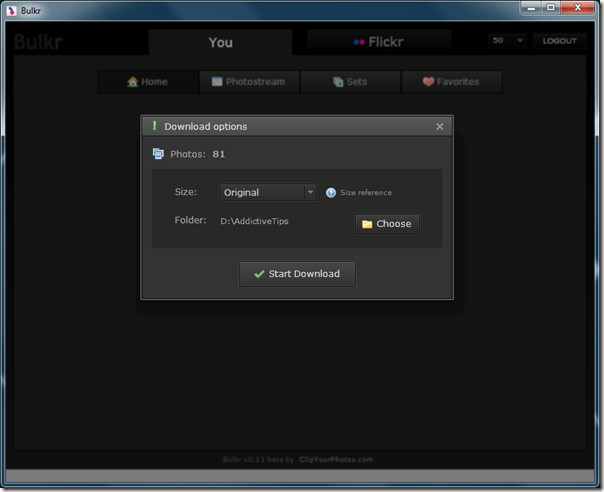 In Flickr tab you will see three sub-tabs – Search, Explore, and User. The first tab allows you to search for public photos, which can be filtered and sorted out from the left sidebar. You can either press Ctrl and select multiple photos that you want to download or click All and then hit Download to begin saving them on your local drive.
There is a small navigation button given on the lower-right side of the app which allows you to move to next page/previous page. By default it shows 50 photos at once, you can increase this number from the drop-down menu given on the upper-right corner.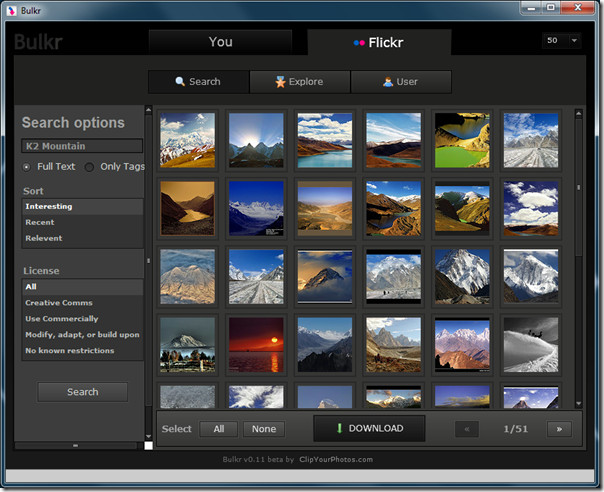 The Explore tab allows users to explore the default Flickr timeline and the photos of any desired user can be viewed from the User tab by entering his/her Flickr URL. All-in-all it is one complete Flickr desktop app developed on top of Adobe Air which makes it cross-platform. It is both a batch photo downloader and organizer packed in one simple easy-to-use app.