Download Songs From SHOUTcast Stations With ESFSoft Radio Downloader
Many of us listen to online music streams while doing several other activities like work, exercise, commuting and what not. While there are countless streaming services available that offer something for everyone's taste, a times you just need the music to be available offline in order to listen to it on the go, especially in areas where you don't have wireless broadband, or just to cut down on your data connection bills. Also, at times you are listening to a radio station and on comes a song that you like instantly. You keep waiting for the presenter to call out the name of the song and artist at the end but it doesn't happen, and you are left wondering which song that was. You can search for it using different methods such as Googling its lyrics, but that in itself can be a bit too much trouble, especially in case of less-known indie music. ESFSoft Radio Downloader helps you with that by allowing you to download radio streams from Shoutcast.com and automatically save them to your computer. The application downloads each song in a different file, letting you easily create a complete playlist.
Whether one should listen to music while working or not is a debatable topic; while some people believe it makes you lose your concentration, other people including myself are proponents of the practice because for them, music works as white noise and blocks out all other distracting sounds, such as other people talking, the sound of a printer or a fax machine etc.
Regardless of whether you want to listen to music while at work or on the go, ESFSoft Radio Downloader provides you with a very friendly interface to download radio streams in an organized manner. Just copy the link of the radio stream and paste it in the designated location. Now all you have to do is hit Download and the tool will start saving the currently playing songs on your computer. The main interface displays the download speed, the size of the current track, its bitrate, genre, URL and stream name. The lower part of the app displays a list of all the songs downloaded so far, along with the currently downloading one.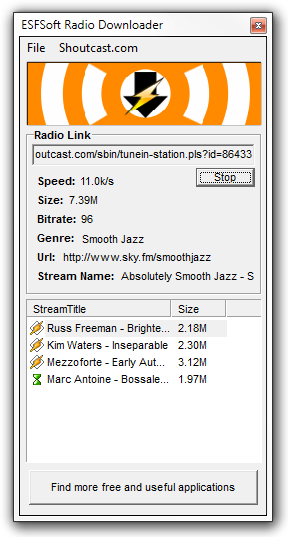 You can directly open the download location by choosing the Open Containing Folder option from the File menu. The songs are saved in MP3 format with all the available metadata information, and can be played using any media player of your choice.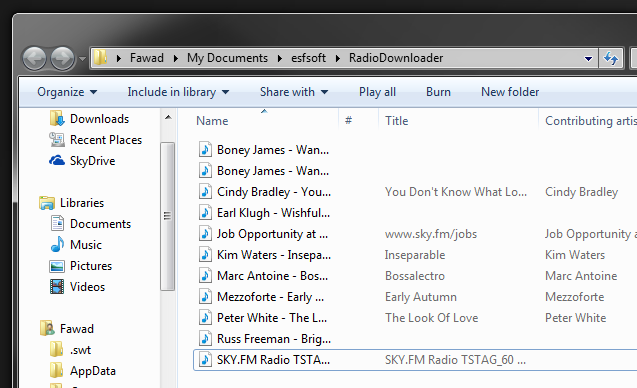 ESFSoft Radio Downloader works on both 32-bit and 64-bit versions of Windows XP, Windows Vista, Windows 7 and Windows 8.
Download ESFSoft Radio Downloader