Download Stocks' Performance History Data With Free Stock Downloader
Dealing in stocks is a risky business. Apparently, it requires one to always have up-to-date knowledge of the highs and lows of financial markets. Since companies are always looking for shareholders to increase investments, the top management often fool the general public leading them into believe over false results as oppose to the company's current performance. Proper research should be conducted over the company's past data, so you don't end up into any problematic situation, especially if you're laying investments for the first time. If you're thinking about investing in the stocks of a new company, or even an existing one, you would want to get acquainted with its performance in the last few weeks before coming to a decision. Any injudicious action can even lead to a major financial pitfall. Free Stock Downloader is a portable program that lets you download opening price, closing price, day-high, day-low and volume data for any company covered by Yahoo! Finance. The application saves the data in CSV format that can be exported to a spreadsheet viewer to look for patterns in the stock's performance. Continue reading to find more details regarding Free Stock Downloader.
The interface of the application has two drop down menus, From and To, to select the start and end dates for the stock data to be harvested. For example, if you want to view the data for the past 3 weeks, open the From drop-down and select the date. Current day's date will be in To by default. Click Start to initiate the download process.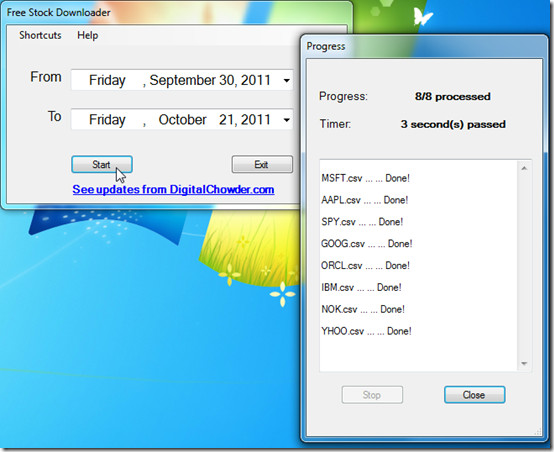 To select your desired stocks, open stock.txt file (inside Stock Downloader folder) and enter the ticker for your desired company. You can check the stock tickers for all companies from Yahoo! Finance website.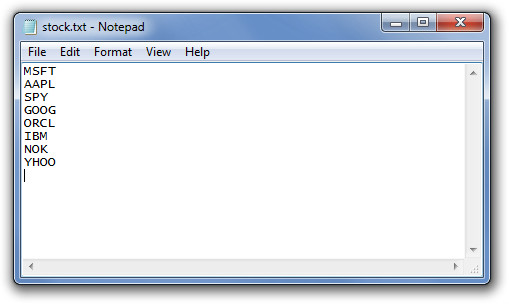 The downloaded data can be accessed from CsvArchive folder inside the Stock Downloader directory. The files are saved in CSV format, and can be viewed in any spreadsheet tool. Free Stock Downloader captures the following data for a particular stock; Date, Open (opening price), High (day-high), Low (day-low), Close (stocks day-end price), Volume (total trade volume of the day) and Adj Close (close price adjusted for splits and dividends).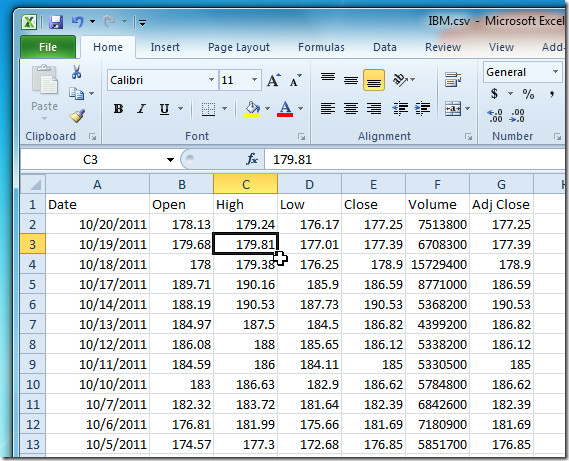 If you want to monitor stock prices in real time, you may also check out TickVue. Free Stock Downloader is an excellent tool that works on Windows XP, Windows Vista and Windows 7. Both 32-bit and 64-bit operating systems are supported by the application.
Download Free Stock Downloader