DropBox Linker – Copy Public URL Of New Dropbox Files To Clipboard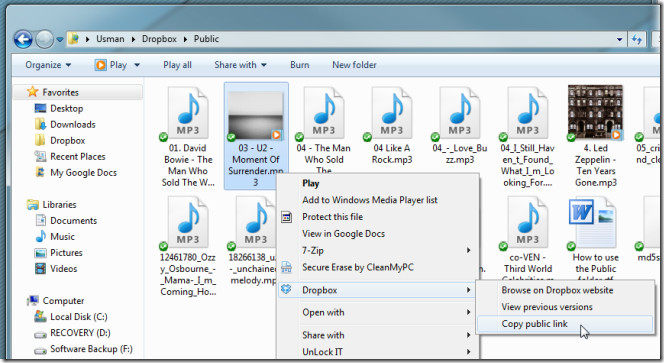 Dropbox's native Public folder greatly serves the need of sharing uploaded files with others, but unlike its web UI, the desktop app doesn't provide a convenient way to share links of files in public folder, as one has to open the Dropbox public folder and select Copy public link option from right-click context menu. Dropbox Linker makes this process seamless for users who share their uploads on regular basis and also modify the files. It's an open source tool which requires nothing more than your Dropbox public folder path and public user ID to post notifications about latest file changes, and update / copy public link of recently modified or added files to Windows clipboard. This surely saves a lot of time to verify the file link whilst you can keep track of all the recent changes you've made to your Public folder.
DropBox Linker offers a simple usage. Just launch the executable file to enter Dropbox public folder path and public user ID. Once done, click Apply to minimize it to system tray, from where you can bring up its configuration console anytime.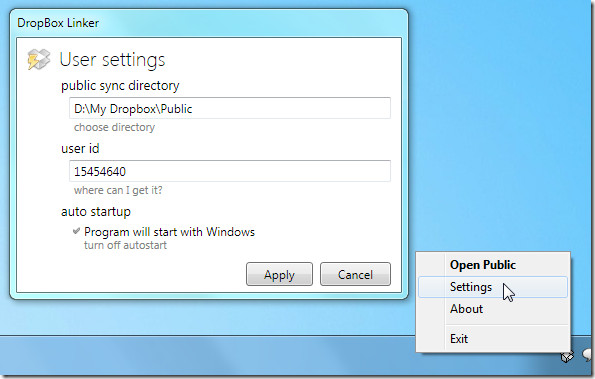 When you modify and add files into Public files. It will immediately send a message over system notification area and copy the file link to clipboard, allowing you to quickly share it with recipients.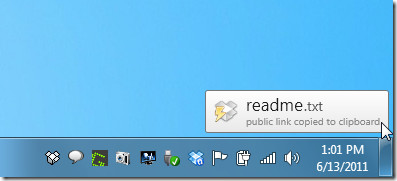 Apart from modifying and adding files into Public folder, it also posts notifications when you rename the file or change its extension. DropBox Linker works on Windows XP, Windows Vista, and Windows 7.