Dropf – Upload Files To Multiple FTP Servers via Drag & Drop
If you don't like FTP clients which requires lengthy settings to be configured prior to establishing connection with your FTP server, you will love using dropf. It's a tiny yet intuitively smart application that lets you upload and share files using an FTP server. It presents a small on-screen upload box to quickly send files, folders, images, text, etc., to your defined FTP servers. Furthermore, it allows managing multiple FTP accounts as well; apparently, there is no limit on number of FTP accounts that can be added, so you can add as many as you want and switch between them with a single click. All you have to do before uploading files is to enter your FTP server details. Once details are verified, you will just have to drag the files and folders over its upload box to send them directly to your FTP server.
Additionally, it can take screenshots and upload them to specified FTP server in one click. You choose the screenshot option and it will capture whole screen area and start uploading it. The built-in URL shortening service makes it convenient for users to share uploaded files and image links with others.
After installation, you will see the on-screen upload box over the system tray. Before you drag files over it, right-click the box and from Ftp Accounts menu, select Manage to add FTP servers details.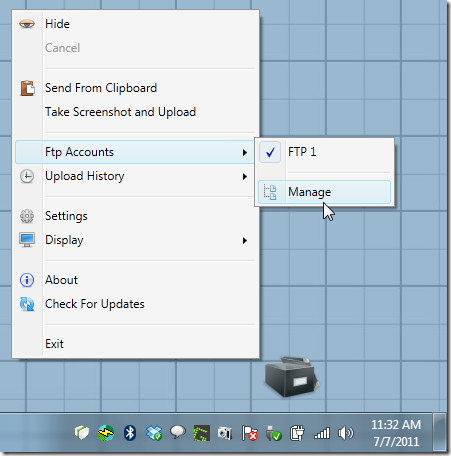 In Manage Ftp Accounts window, you need to add host, URL, select mode, and enter login details of FTP server. If you want to manage more than one account, click Add to add details of another FTP server.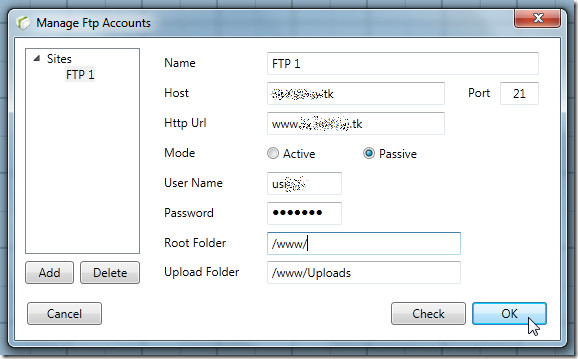 Once you've done, drag files which you want to upload to FTP server.  You can switch between configured FTP servers from Ftp Accounts menu.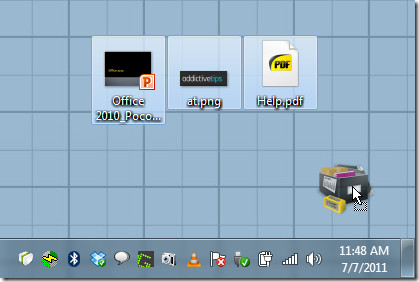 Apart from uploading files from upload box, it can also be integrated to Windows shell Send To menu, allowing one to easily upload files or folders from Windows Explorer. By default, this option is disabled but can be enabled from Settings which is accessible from main menu.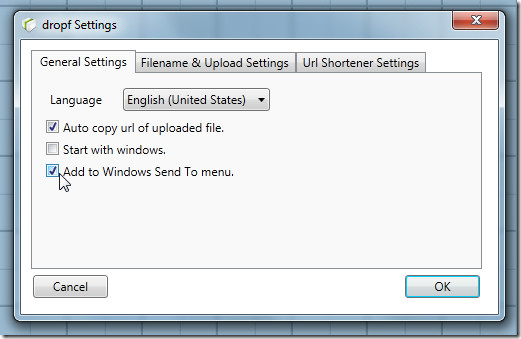 The Filename & Upload Settings tab lets you replace file name for web standards, categorize folders based year/month, put time stamps in file names, and send text residing in Windows clipboard as TXT file.
To upload file(s)/folder(s) from Windows Explorers, select them, right-click any of them, and then click dropf option from Send to menu.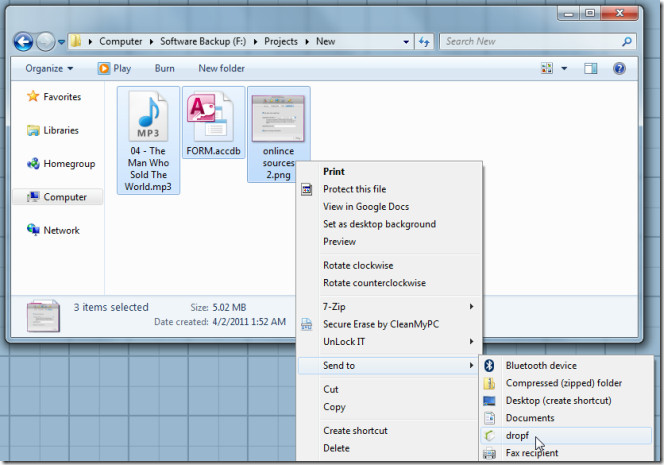 dropf certainly offers a great way to quickly upload files and screenshots to multiple FTP servers. However, it would've been more useful if it could add FTP servers separately in Send to menu instead of single dropf option which uploads files to default FTP server.