DShutdown: All-in-One Automatic Shutdown Tool With Remote Access
There are times when we have to leave our computer on for a download or file transfer to finish. You can easily do this if you are sure to be around your computer when the process completes and shutdown your computer, but a lot of times, we have to go out or go to sleep and are unable to wait or be there when the download, transfer, scan or defragmentation completes. Unnecessarily keeping your PC on for long periods wastes a lot of energy and it adds up to your energy bill. According to a recent study, a lot of us keep our PC's on for no apparent reasons, and if shut down, can save a lot US total power consumption every year. Automatic shutdown applications are a great way to avoid keeping your PC on when its not needed. Previously, we have covered automatic shutdown utilities, such as AllOff Lite and DownOff, that let you shutdown your PC when certain conditions are met, but the usefulness of these applications is situation-specific. If you want a portable automatic shutdown tool that allows you to perform shutdown function on local, as well as remote computers, try DShutdown. Read on to find out more about the features provided by DShutdown.
The application provides you with a lot of options to select the Shutdown Type, such as Log Off, Shutdown Type, Power Off, Reboot, Stand by, Hibernate, Lock the Workstation, Hang up Mode, Disable LAN Adapter, Alarm Clock etc. It comes with a timer that lets you perform the specified function after, at or on a particular date and time. It lets you shutdown the PC using multiple conditions, including Shutdown if the user is inactive for a given time, Shutdown if pixel changes its color, Shutdown at the end of a program, Shutdown for Internet Activity, Shutdown for CPU Usage etc.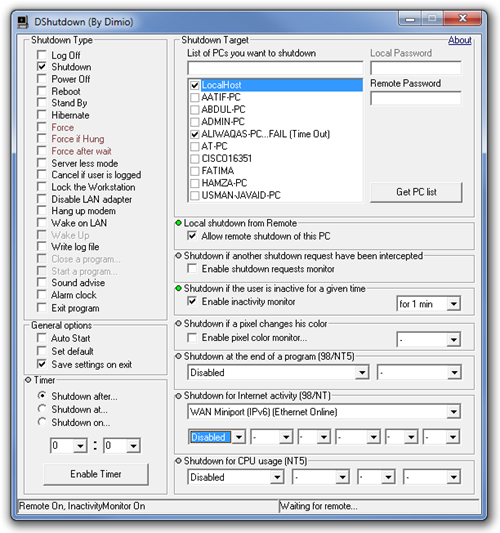 To shutdown a remote PC from your computer or vice versa, DShutdown should be available in both the PC's. Open the RDShutdown Setup Utility executable file to setup the application  for gaining and allowing remote access. You can specify a custom password, install the service and select the Startup Type.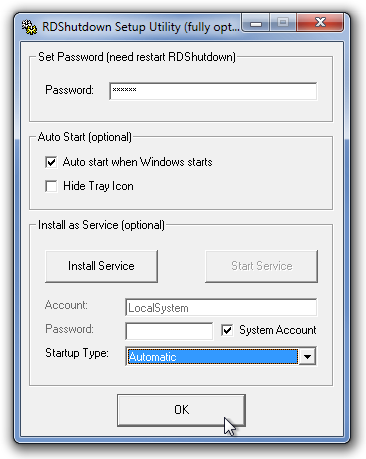 Overall, DShutdown is a great shutdown utility that contains a handful of other options as well. It has a memory foot print of just 1 MB and works on all 32-bit and 64-bit version of Windows XP, Windows Vista, Windows 7 and Windows 8.