Dump Truck Offers 5GB Free Cloud Storage On PC, Mac, Android, iOS & Web
Even though the names Dropbox, SkyDrive and Google Drive etc. have become synonymous with cloud storage, this doesn't stop new entrants from jumping onto the bandwagon. After being left impressed by the feature set of Maxxo, the unlimited space options of Bitcasa, and the ease in setting up your own cloud offered by Syncbox, we came across Dump Truck – an intuitive and user-friendly cloud storage service that offers up to 500GB worth of space! It is the brainchild of Golden Frog – a major IT firm with an already large online presence in internet services and applications solutions like VyprVPN. Dump Truck offers free as well as paid cloud subscriptions starting at as low as $4.99/month for 50GB, while free accounts get 5GB of space to start with.
Dropbox, SkyDrive and Google Drive users will instantly get the gist of how Dump Truck works. Upon installation, the application launches an easy-to-configure setup wizard that lets you sign up for a new Dump Truck account by entering the required credentials.
Akin to other widely popular cloud solutions, the service allows you to link multiple devices to your Dump Truck account. You can specify a custom name of the device during the setup process as well, which in turn registers the device with your account. You can also unlink existing devices at any time from the Preferences console, but more on that later.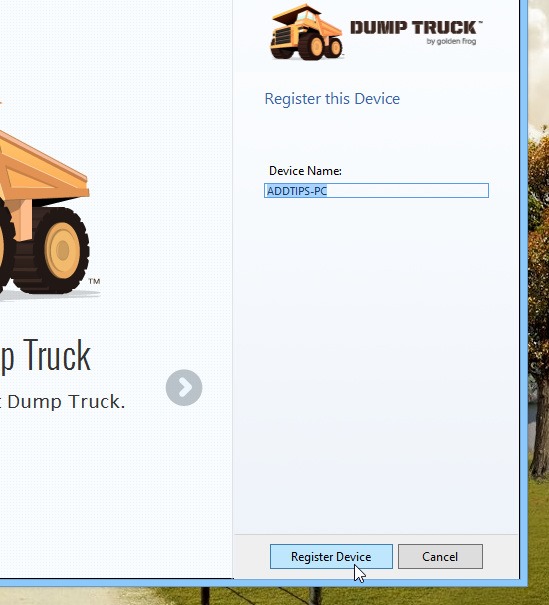 Once configured, Dump Truck sits quietly in the system tray. A Dump Truck folder is also created on your machine so you may easily synchronize your files by simply dropping them into it. Moreover, the folder shortcut can be found under the Favorites section of the navigation pane in Windows Explorer for quick access. Any files and directories inside this folder are kept in sync with your Dump Truck cloud storage, much like other services we're already familiar with.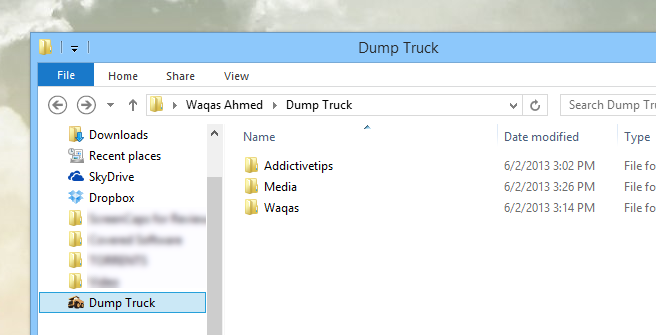 Speaking of synchronization, it's pretty fast, to say the least. The app instantly displays a notification bubble when an item is en route to the cloud.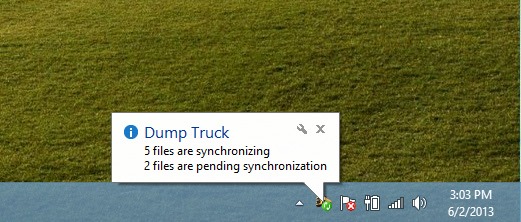 Right-clicking the notification icon reveals the context menu that lets you launch Dump Truck's web app or local folder, take a peek at your total and available cloud space, access the preferences console, and exit the app.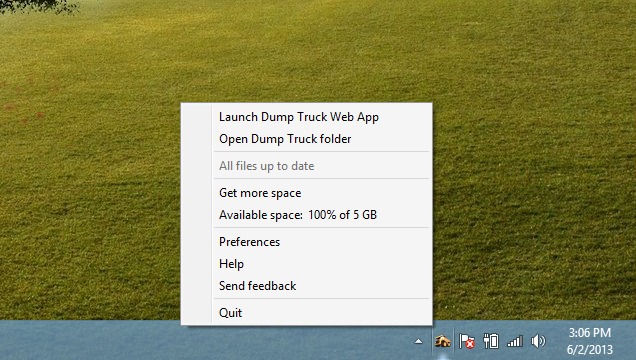 The Preferences window is pretty short on configuration settings though, and is only as useful for unlinking the current device from your Dump Truck account, and toggling some generic options. You can set Dump Truck to launch on computer startup, toggle desktop notifications, and set the app to send crash reports and usages statistics to Golden Frog.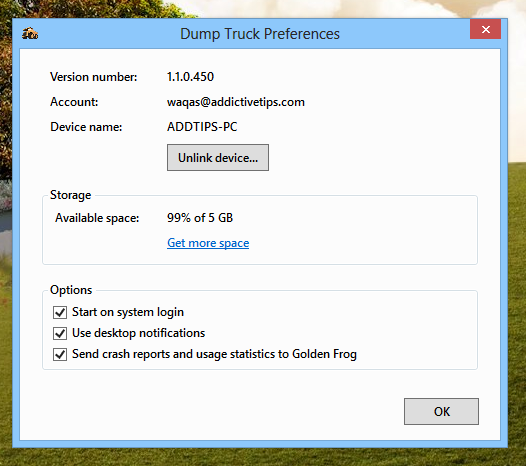 A major benefit of any cloud service is the ability to access your files from the web using any device, anywhere. Thankfully, Dump Truck is no exception in this case. The web app looks pretty simple on the surface, but offers all the features most of us would usually need. You can upload new files, create custom folders, add files to favorites list, or share any item with your friends.
The nifty share feature allows to share the file's URL directly on your Facebook, Twitter, Google+ or Linkedin profiles, or you may simple copy the link and send it to anyone directly using email, IM or any other app.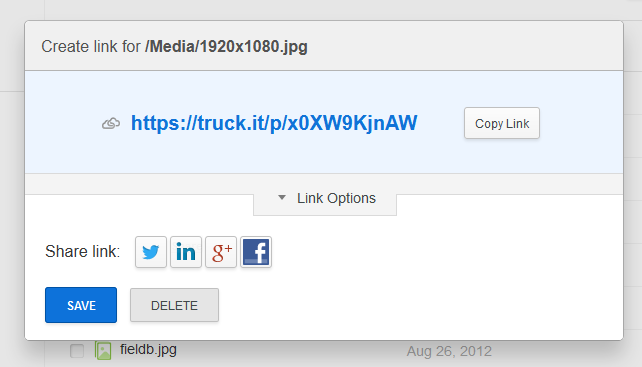 The mobile apps of the service let you access your cloud storage from your smartphones and tablets. The Android app offers options to upload new files from your device, create folders, stream media files that are stored on the cloud and view photos. I couldn't find a way to download an item to the local storage though, which is a huge shortcoming. You can also upload or sync multiple files in one go via the Queue feature. Likewise, the integrated share option lets you share the public URL of an item with your buddies on social networks, or simply send as an email.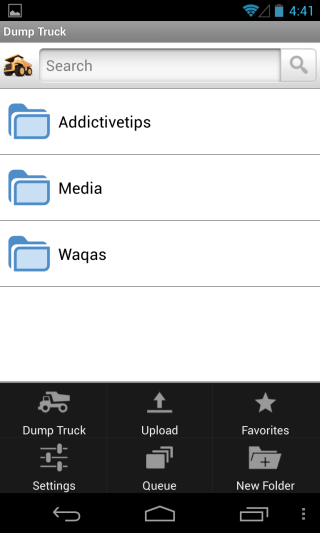 The iOS variant on the other hand feels a little bit more polished than its Android counterpart, particularly when using the app on iPad. The features and settings it provides are no different than the Android variant, meaning there is no download option, so you're pretty much out of luck here as well when it comes to that.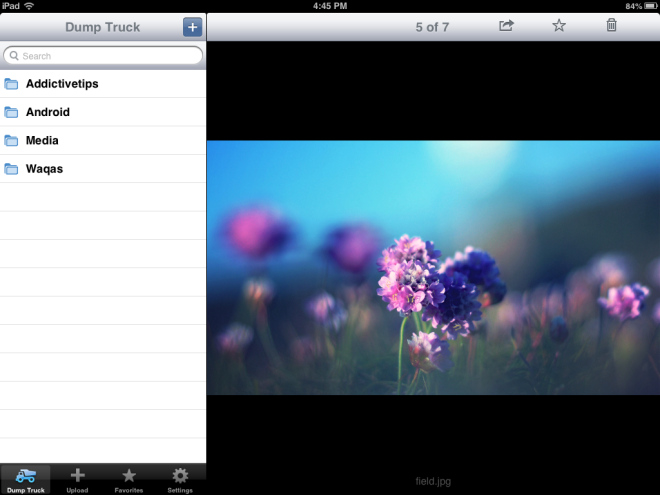 While Dump Truck is no different from other cloud storage and sync services already available, its blazing fast syncing capabilities, cross-platform support, elegant design, and low price for a huge amount of storage make it worth a try. Though the developers need to add a downloading option to its mobile apps as soon as possible, to make them useful to most of us. Dump Truck is available for Web, Windows, Mac OS X, iOS and Android.