Duplicati – Simple Yet Advanced Backup Software [Online/Offline Backup]
Very few people make regular backups because many tools are too complicated to use. Duplicati plans to solve this problem by providing a simple wizard. It is simple yet advanced tool with tons of options to choose from.
Apart from wizard, it has a proper GUI where you can watch the progress of backups and the backup that are in queue. But first lets see how the backup wizard works, the steps are a bit long depending on which advanced options you have chosen.
You run the tool and it will load the backup wizard dialog asking you to either make a new custom backup or restore existing backup.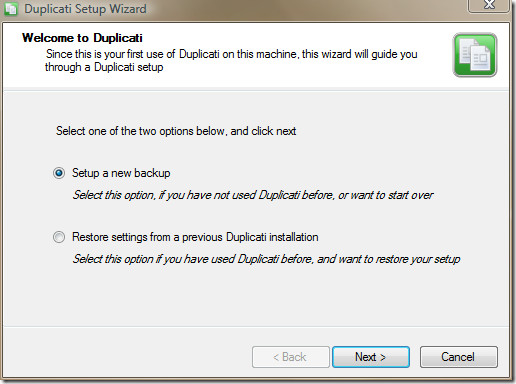 In the next step you have to give a name to this backup. There is also an optional option to add the backup to a group.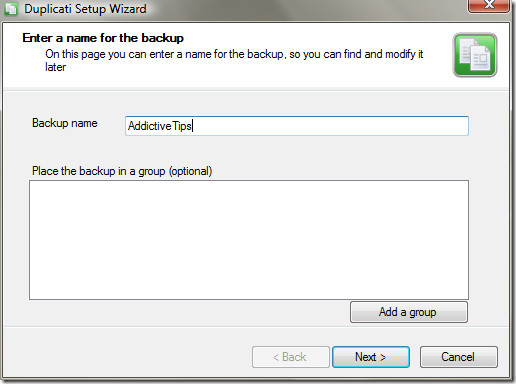 Since it plans to make backup easy for those users who are new to this concept and for those who think backups are complicated, few important options are already checked by default. You can choose to backup documents, images, music, files on desktop, and application settings.
If you want to make a backup of a folder, there is an option for that too.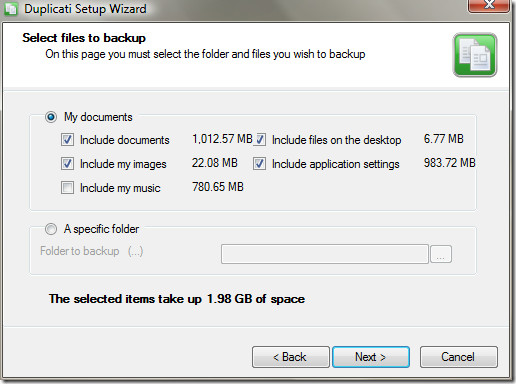 Once you have chosen the files, you get an option to password protect the backup. You can either type a custom password or let the program generate password for you. Finally select the type of encryption and hit Next.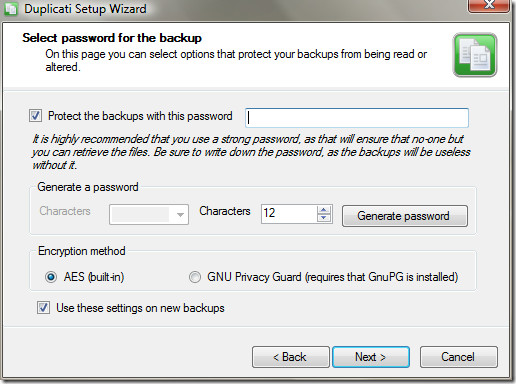 By now you have selected the files & folders that for backup and password protected the backup. Lastly you have to select where the backup needs to be stored. You can backup to both External Hard drive or Network drive(Offline), or backup to a remote FTP/SFTP server, Amazon S3 Storage or WEBDAV enabled remote server(Online).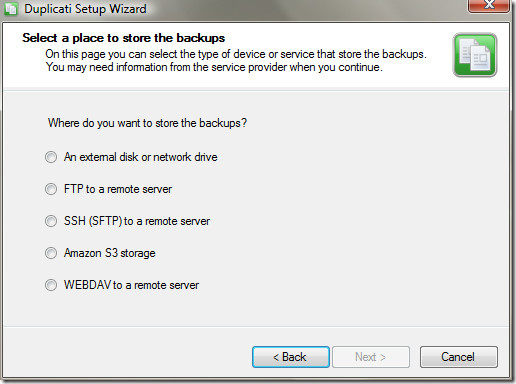 Once you have choose the desired backup storage, hit Next. The next step would depend entirely on the backup storage you have selected. For the sake of this review, I have choose the first option, i.e, An external disk or network drive.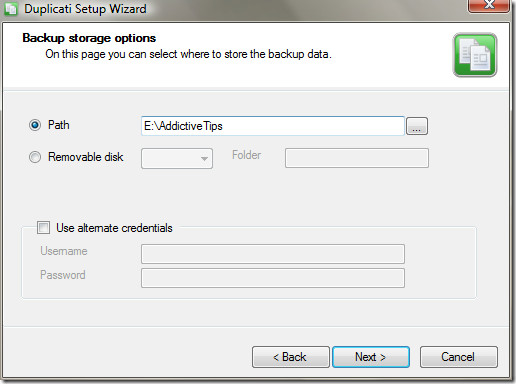 Now here comes the advanced settings part, the more checkbox you check, the more steps will be added to the wizard. If you are making a normal backup, then you can uncheck all checkbox except the last one.
But if you want to make regular backups, choose how often backups should be made, choose when old backups should be deleted and replaced, etc then select the desired checkbox before hitting Next.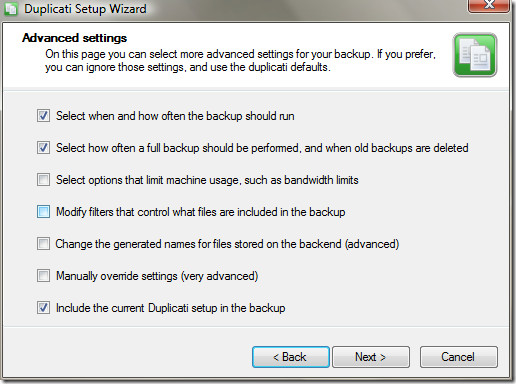 If you selected how often backups should run, then in next step you will find options to set the backup date, time, and frequency.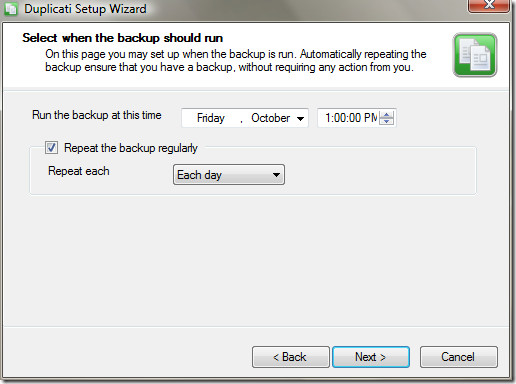 It can make both full backups and incremental backups. Full backups are usually made once, and then incremental backups are made depending on the settings you have chosen. Incremental backups are faster because they only backup those files that have been changed, while Full backup will backup the changed files along with other files.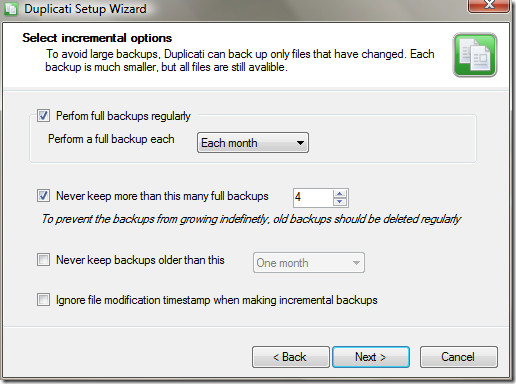 Now in the last step, it will show you the overview of all the settings you have chosen in the wizard. If you think the summary is correct, hit Finish and you are done. Make sure Run Backup Now checkbox is checked if you want to make a backup immediately.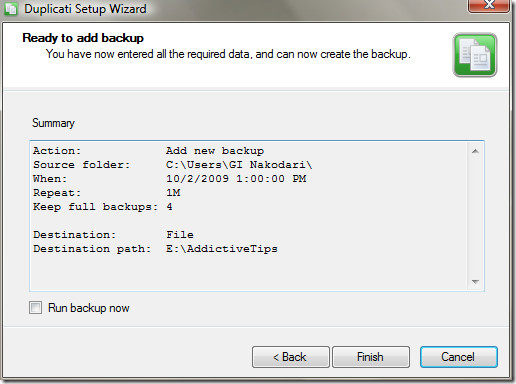 Now finally you can see the progress of the backup on the main Duplicati Status window.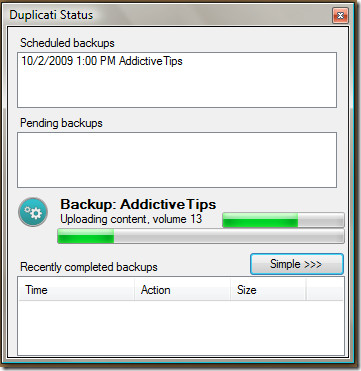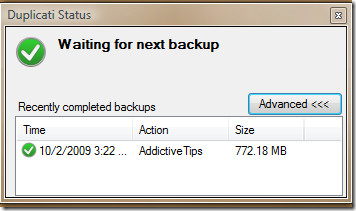 Right-click the completed backup and select View Content. This will open a new dialog where you can preview all the content.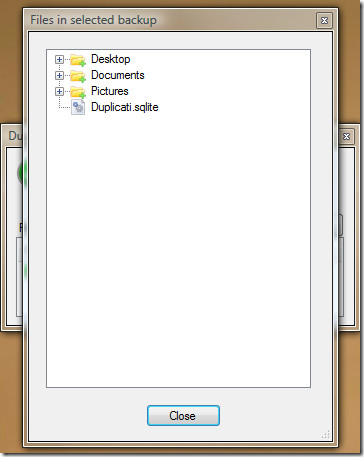 When closed, it sits silently in the system tray and continues making backup without disturbing any of your work.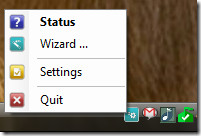 Watch Duplicati in action below:
It takes only 9MB of system memory and makes seamless backups. According to the developer, it is build like Linux-only Duplicity backup system.
It works on Windows 2000, Windows XP, Windows Vista, Windows 7, and Linux. Enjoy!