Dupy Scan: Compare File Properties And Scan Files & Folders For Duplicates
Dupy Scan is a portable application to scan files and folders for duplicate items. Finding out duplicate files manually from different locations is a tedious task as one needs to navigate through different locations and need to check file's properties and other attributes. The application supports multiple options to check  duplicates by different properties, hash comparisons and other basic attributes. While showing complete comparison results and duplicate file list, it also lets user save the comparison list in CSV format.
The efficacy of such applications depends on scanning algorithm, the one it uses is quite efficient and gives scanning results instantly. Usage is simple, you can start off with scanning file set or a folder, all that is required is to specify the files in bulk or a folder, once folders & files are added, change the priority to Primary, you can enter the file extensions to include and exclude specific files in scanning process, exclude file attributes, compare by files' properties and hash function. Once all options and settings are in place, click Scan button.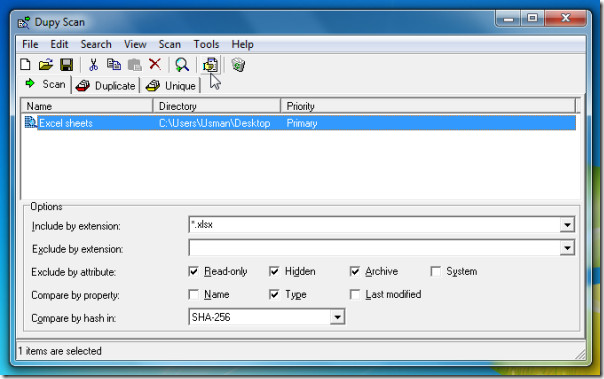 This will promptly scan all the files & folders and put the duplicate items under Duplicate and unique files in Unique tab. Under Duplicate tab, you can select the duplicate items in bulk and perform simple file operations like; Cut, Copy, Delete, Open, view Total Size, etc. For saving the list of files, click Save button to create a list in CSV format.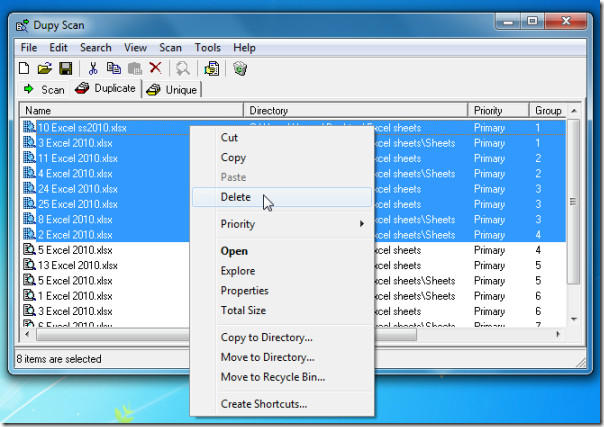 Overall, it is useful when you need to scan different locations for duplicate files by comparing different properties and especially checking hash value during the process. As all the necessary options and features are included, it wont take much time to find out duplicate items.
It runs on all Windows based OS, we tested it on Windows 7 x86 system
For more, you can check out Auslogics Duplicate File Finder and Duplicate Cleaner.