Automatically Organize Your Movie DVD/Blu-Ray Collection With DVD Chief
IMDB is a films equivalent of Wikipedia, and is undoubtedly, the biggest database of films and TV shows on the planet. We have covered several movie management applications in the past, such as EMDB and Movie Explorer, that use varying internet sources to gather and store movie information to generate offline catalogs. DVD Chief is yet another such program, which is also one of the most comprehensive ones. It keeps track of your favorite films, TV shows, celebrities information, all at one place in an organized manner. Just insert your Blu-ray/DVD, and DVD Chief will automatically download all its information, either from IMDB or Amazon, depending on the preferences of the user. Want to watch something with your kids? Don't worry, you can instantly check the MPAA rating to be on the safe side before even watching a film. It allows you to enter the information in three ways, by typing the title, inserting Blu-ray/DVD and selecting an ISO file from the computer. All the information is then stacked in three separate ways, Movie information, Cast members and Statistics.
The application offers a neat and elegant UI, which is customizable in a number of different ways. To add a new movie, you can click Add Movie on the upper left side, which gives you different options of which media you are going to opt for, such as Disc drive, from a file or off the internet. The Home tab provides a number of options like editing or deleting the details, navigate through the catalog or play the the selected movie. You can add the cover images (back, front etc.) and also purchase any movie you may viewing but not currently have, by navigating onto Amazon, Ebay or DVD Empire. You can also filter your movies in a number of ways, like Seen, Unseen, loaned, show only TV shows or Movies etc., a great way to manage your videos if you have a huge collection.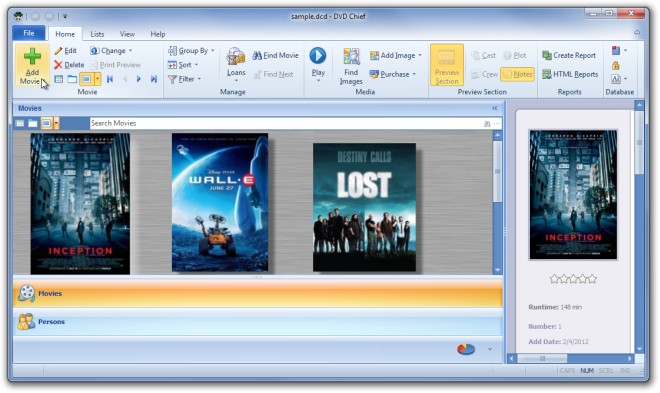 As mentioned earlier, there are three separate ways of seeing the information. On the bottom left side of the application, there are three menus, Movie, People and Statistics. Clicking each button brings in further information regarding the current listing. For example, Movie contains a little summary of the plot, cast and crew members and a poster etc., while Persons includes only the major people involved in making the films. Statistics contains the statistical data such as IMDB and MPAA ratings, genres, release year, studios, locations, media, editions, runtime etc.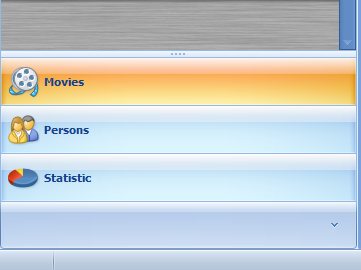 The List tab contains quite a lot of different information as well. Upon inserting a Blu-ray/DVD, the application also lets you know about its current media condition.  Not only that, if you have something interesting to keep about the movie like some scene or a dialogue, just insert a memo for later use. You can also find which studios you have films of, the number of editions available, stores currently stocking the movie, distributors, countries, languages etc.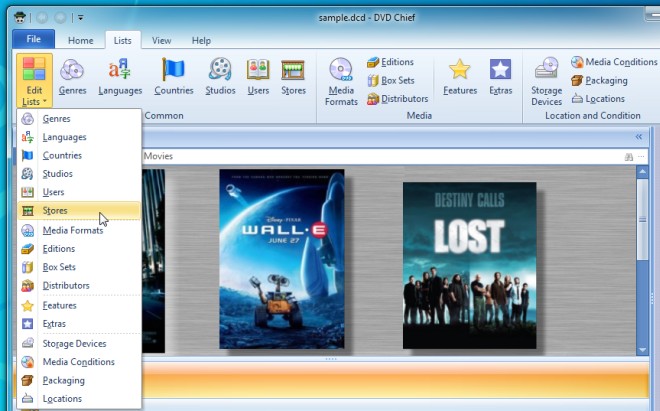 The view tab lets you customize the way you wanna look at the application. There are number of different themes available to select. Added just to increase the cosmetic appeal of the application but nonetheless, a nice feature. You can also customize the way you want to see your current collection, either in titles or in thumbnail posters.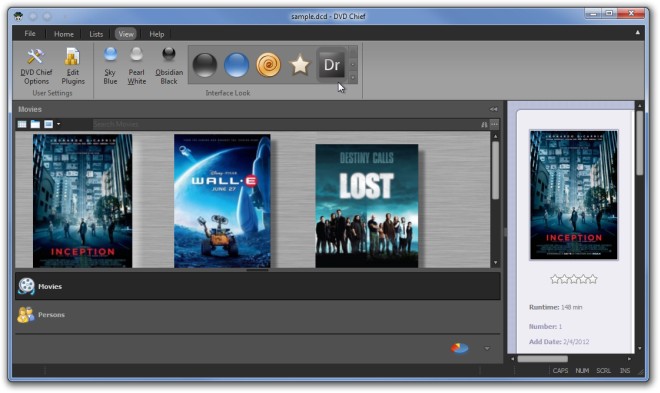 All the data can be backed up in .txt, .csv, .amm, .dmo etc. if you want to move it or recover your carefully organized information due to some data loss.
Suffice to say DVD Chief is a great way of organizing your movie collection offline whether you want it for personal use or run a video store. The application is compatible with Windows XP, Windows Vista, Windows 7, Windows 8. Both 32-bit and 64-bit OS are supported.