Easily Convert Photos Into Pencil Sketches Using Instant PhotoSktech
Creating sketches out of photos is fun way to edit them, but the problem faced by a lot of people is that, usually, the applications that allow you to create pen sketches, for example, Adobe Photoshop, are too complex to use. Some days ago, we covered a Mac app from CPSSoftware called InstantPhotoColor, that allows you to easily color your images using the built-in brush tool and color selector. Today, we have another application, from the same developer, for Windows, that allows you to convert any digital photo into a pen sketch or drawing. Instant PhotoSketch is a multi-platform tool that enables you to quickly turn your photos into pen sketches by adjusting the black and white levels for an image. Keep reading to find out more about Instant PhotoSketch.
The simplicity of the application is one of its strong points which makes it extremely simple to use, even for the new users. The application presents you with just a couple of sliders for increasing and decreasing the black level and white level of the image. You can use the sliders to select the black and white levels of your choice in order to make the image look exactly as you want.
When Instant PhotoSketch starts, click Open button at the top, and select the image that you want to turn into a pen sketch. Once the image is loaded, you can adjust the black level and white level of the image using the provided sliders. When the settings are done according to your preferences, select Save from the top. Instant PhotoSketch allows you to save images in JPG, as well as PNG format. You can zoom in and zoom out an image from the given buttons to view particular details when increasing or decreasing the black and white levels of the selected image.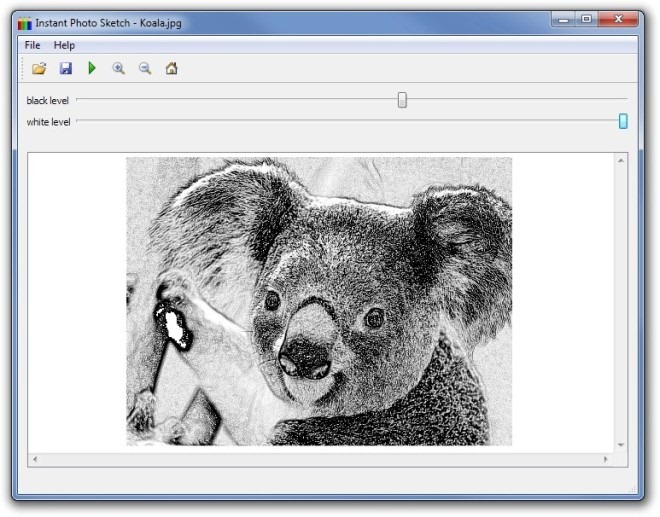 If you want an application with more options, and a much wider range of brush tools, try FotoSketcher. It allows you to perform a lot more complex image editing functions and has over 20 drawing effects and tools. Instant PhotoSktech is available in both free and pro versions, with the pro version giving you options like custom color selection for pen and paper. The complete comparison between the two versions can be found on the product page. It works on both 32-bit and 64-bit versions of Windows XP, Windows Vista, Windows 7 and Mac OS X.