Easily Convert Time According To Different Zones
As you all know that nowadays the world is considered as the global village, and it is common to deal with friends, people, organizations, etc who are located in different parts of the world. Therefore it is necessary to communicate and schedule appointments with respect to the local time of your counterparts and it is often a botheration to calculate the time difference accurately, Time Zone Calculator is a tool which takes care of this for you.
This post has been updated to let you know that Time Zone Calculator also supports Windows 8. The article was updated on April 3, 2012.
It offers a simple and self-explanatory interface, just select the base time zone and a remote location(there is no button needed to be pressed), once you have chosen the base and remote time, it will instantly calculate the time  according to the remote location. It also offers two buttons that let you use noon and midnight as the reference time which can give you a quick idea about the time in a different location relative to the main points of the day.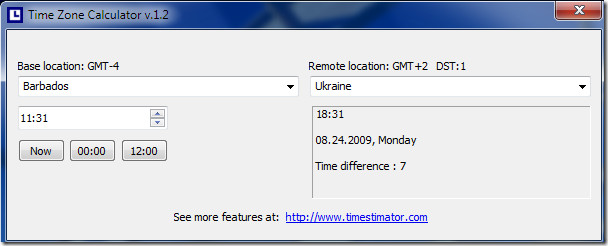 It works flawlessly on all versions of Microsoft Windows, we tested it successfully on Windows 7 and Windows 8 as well. Enjoy!