Easily Create GIFs From Videos With Freemore Video to GIF Converter
(Graphic Exchange Format) files are animated images created by stitching together still images and playing them like a movie clip. The format is widely used on several entertainment websites such as Tumblr, 9gag, Memebase, 4chan etc., as it allows users to create simple animations without having to use a complicated image or video editing application. Previously, we have covered a lot of application that allow you to create GIF images, such as GiftedMotion. However, if you want to create GIFs from video files, you will need a different tool. Today, we present to you an application called Freemore Video to GIF Converter that lets you easily convert video files to animated GIFs. It support a lot of popular video formats including AVI, MP4, MPEG, FLV, MOV, and 3GP. Other than converting the whole video to GIF, you can also select a specific part of the video for conversion.
Freemore Video to GIF Converter is also bundled as a part of the excellent Freemore Audio Video Suite that we have featured here a few weeks back. Both the standalone version and the version bundled in the suite are identical when it comes to features. If you're interested in the complete suite of audio, video and PDF tools, don't forget to check out our coverage of Freemore Audio Video Suite.
The main interface of the application is really simple and provides you with options to import the source video file and start, stop, pause or resume the conversion process. You can also preview each frame of the GIF while it is being assembled. In order to load a video clip to the window, click Input and browse for the video file you want to use for creating the GIF.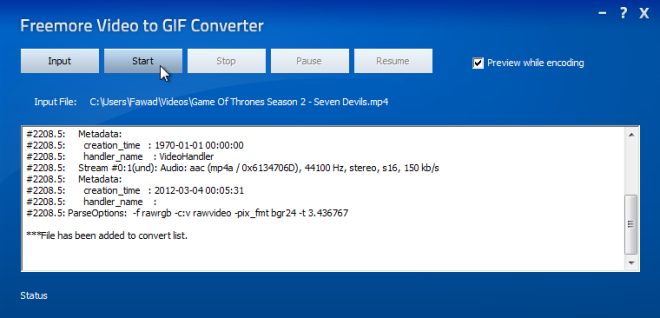 Once you select the video clip, you can choose if you want to convert the whole clip or just a specific part or it into a GIF file. The Set Start and Set End controls at the right side enable you to define the starting and ending points of the GIF file.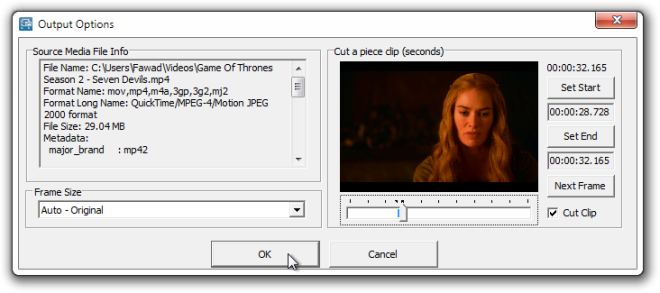 The application offers a long list of frame sizes and resolutions to choose from, including160 x 120, 320 x 240, 640 x 480, 1280 x 720, 1920 x 1080 etc. Once all settings are done, click OK to move back to the main interface. Click Start to start assembling the GIF.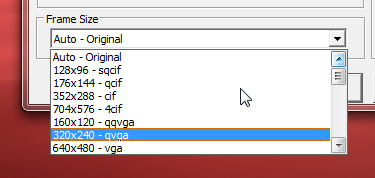 Video to GIF Converter works on both 32-bit and 64-bit versions of Windows XP, Windows Vista, Windows 7 and Windows 8.
Download Freemore Video to GIF Converter