Easily Create Loop GIF Animations With AnimateGIF
A GIF (Graphics Interchange Format) image consists of an animation created by combining a number of still images. It is one of the earliest digital image formats that was introduced back the 80's. It is a very popular image format on the internet, especially on various web forums, as it enables users to create animations without using any complicated image or video editing application. Head over to websites like neogaf and you'd find countless GIF images, shared by various users. If you have ever wondered how to make your own GIF animations, then you'd be surprised to learn that the whole process is quite easy and requires a simple software and some little use of brain. Among a number of GIF creaters available on the internet, one really caught our attention is AnimateGIF. It is a portable application that can create flawless GIF images within a few clicks, complete with custom frame delay and selecting whether the animation will run once or in a loop. You can add & remove as many images as you like and change the quality of your final GIF image. Keep reading for more on AnimateGIF.
The interface is quite simple and consists of image drag-and-drop area at the top, with buttons to Remove frame and Clear frame below it. The controls to toggle Loop Animation, set Frame Delay and change Quality of GIF image are located in the middle. The Animate button is at the very bottom of the interface.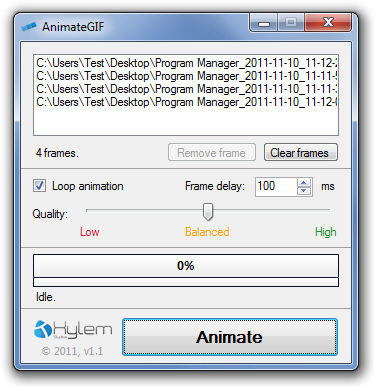 To create a GIF animation, select the images by dragging them onto the interface. Since the application doesn't allow moving the images up and down in the list, you will have to arrange the images manually by adding them in sequence. Use Remove frame to delete the selected image and Clear frame to delete the whole list. Once all images are added to the list, check Loop Animation option to run the GIF in a loop, set the Frame Delay to define the image-change time and select the Quality of the final image from Low, Balanced and High. When all settings are done, click Animate and enter a name for the new GIF image to start the process.
AnimateGIF is similar to previously covered GiftedMotion, which lets you adjust the position of images and edit existing GIF animations, features that AnimateGIF lacks. It works on all versions of Windows, including Windows XP, Vista, Windows 7 and Windows 8.