Easily Find Words Or Snippets In Text Files On Your PC With Infile Seeker
Have you ever jotted down someone's contact details on a text file, only to forget that file's name or the location where you saved when you later needed that information? Or perhaps you want to locate a particular phrase or word that's a part of a file's content, and you don't remember which file it exactly was? Windows comes with a built-in search feature that takes care of it for files in indexed locations, but what if you want something with more flexibility and control over your search? A handy little app called Infile Seeker aims to take care of just that. This tiny Windows tool does a lot more than its size, and can easily help you pinpoint the file containing your required phrase, sentence, number, or pretty much any string of text no matter where it's stored on your computer. The application can find the text in a multitude of file types, including but not limited to TXT, PHP, HTML, HTML, XML. JS, CSS, ASP, ASPX, CPP and more.
The tool can prove extremely useful for quickly finding words or sentences in text-based files, and eliminates the need of opening every text file in a folder for the purpose. It can be especially useful for web developers, authors, journalists, teachers, programmers, or just about anyone who relies on text files for storing a lot of their useful information.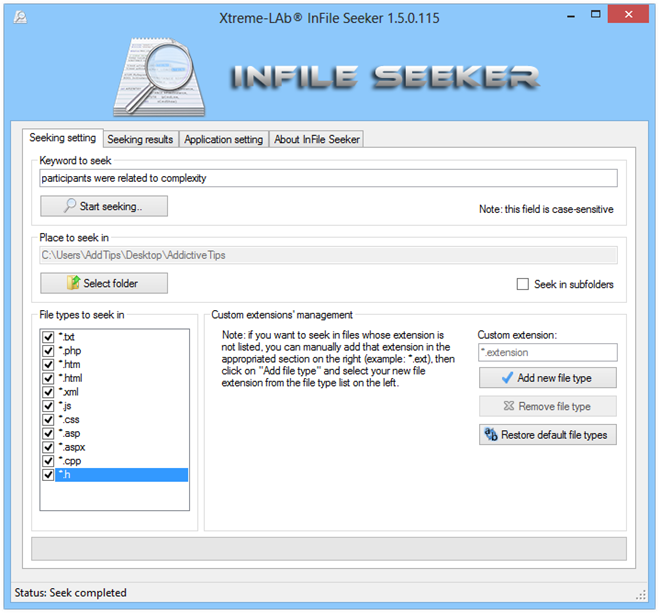 The app sports a very simple and minimal design that make it easy to understand and use for any computer user. Simply launch the app and enter the text that you want to search under the 'Keyword to seek' field. It should be noted that you can enter any type of alphanumeric data, no matter how complex it is. Next up, specify the directory that you want to search in. If you already know the exact folder where the file might be located, simply select it via clicking 'Select Folder'. In case you're not sure about the exact folder name, you can specify a root location and then enable the 'Seek in subfolders' option.
Next up, mark the extensions from the supported text file types. The tool also allows you to specify your own custom extensions by entering them at the right side. All you have to do is type in the extension and click 'Add New file Type' button. Once done, just click 'Start seeking'. The searched text appears under the 'Seeking results' tab, which shows you a full preview of the text, while also displaying the file's location and allows you to open the target file directly from Infile Seeker. Furthermore, if there are multiple results for the entered text, you can click the Previous and Next buttons to move between them.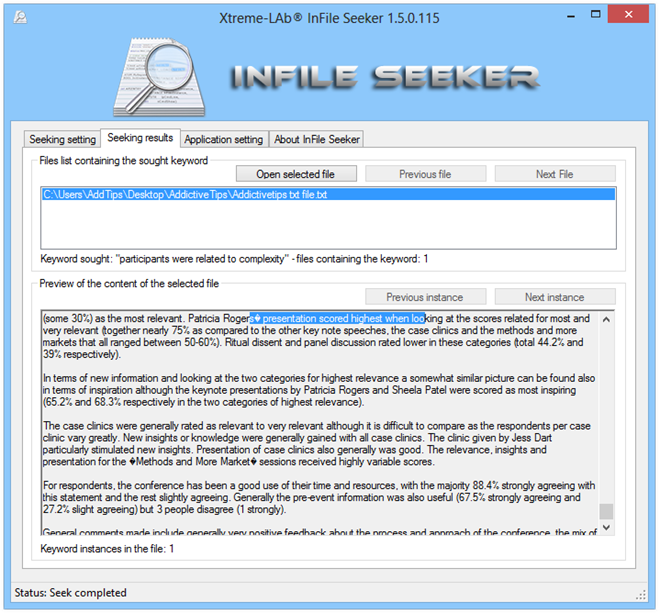 The app supports all versions of Windows, and its testing was carried out on Windows 8 Pro, 64-bit.