Easily Join Multiple MP3 Files Together & Save With Custom ID3 Tags
There's no shortage of MP3 joiners on the internet, and chances are you will easily find one as web, desktop or mobile app. We've also covered plenty of file joiners, audio editors and audio suites that let you stitch your media files in a convenient and user-friendly way, but if you're looking for a tool dedicated for joining MP3 files only, Meda MP3 Joiner is worth a shot. Even though it looks quite simple on the surface, the program is fairly powerful at what it does, and does it really well. It basically lets you turn a number of MP3 files in to one large track for continuous playback, which can also prove to be handy should you require joining various audio sequences during post production. What's more, the built-in tag editor lets you enter custom ID3 tags information before saving the output. Details to follow after the break.
Meda MP3 Joiner sports an easily understandable interface, with little-to-no learning curve. To get started, load the required MP3 tracks in the app by simply dragging and dropping them on it. If you prefer the classic browse method, click the Add button at the top and locate the files that you want to merge. Having done that, click the Merge button to start the joining process. The really cool thing about Meda MP3 Joiner is that it doesn't decode and re-encode the files during merging, thus you wouldn't notice any substantial loss in quality of the output file.
You can also change the default sequence of the list using the up and down buttons. Moreover, the application lets you exclude non-required items with the remove button. In addition to all this, the existing workspace can be saved as a local file so you may continue your work at a later point from right where you left off.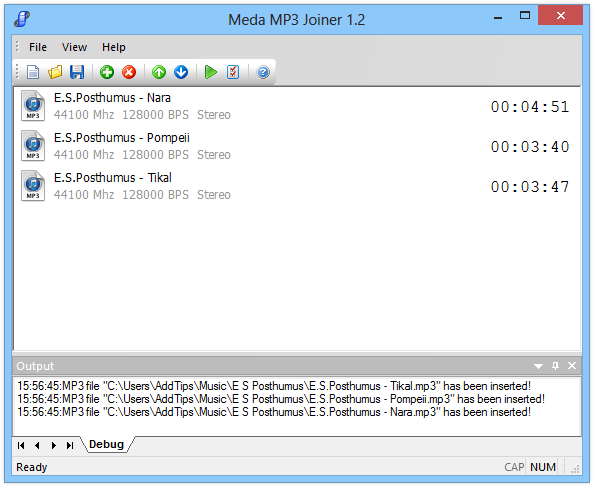 The integrated ID3 Tag Editor can be accessed from the File menu. Make sure you have enabled this feature first under the Preferences window. The tag editor doesn't offer adding much information, but it still allows you to jot down basic info like album and artist name, title, year and comments.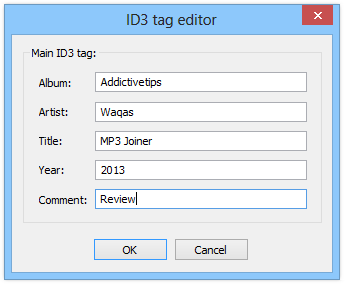 A decent interface, an efficient and fast operation, and a price tag of free makes Meda MP3 Joiner a great tool for quickly merging MP3s together without any major loss in quality. It works on Windows XP, Windows Vista, Windows 7 and Windows 8.