Easily Search For Files Or Folders On The Network With LanHunt
Local networks allow easy sharing of files between multiple computers but if there is a large number of files and folders shared on a network, managing all of them can be a bit difficult. If you are looking for a particular file or folder and don't remember the computer it was on or its path on that computer, things can get a little frustrating. The Windows search option works great to look for files onyour local storage, but not quite so for network files. Today, we have an open source application for you called LanHunt that allows you to search for shared files and folders on the network. You can quickly search for network content and narrow down the results using file-type filters. In addition, the Open Location feature allows you to directly access the parent folder of a required file.
LanHunt's user friendly interface allows you to search for files without having to go into any difficult configurations. When you run the app for the first time, the interface will appear to be a bit bland and not up-to-par with today's design standards – something that the developer can and should improve. There is a search field in the center and right below it is the drop-down menu to change the file type, along with the Hunt button. You can choose to search all files, videos, audio files, documents or just executable file.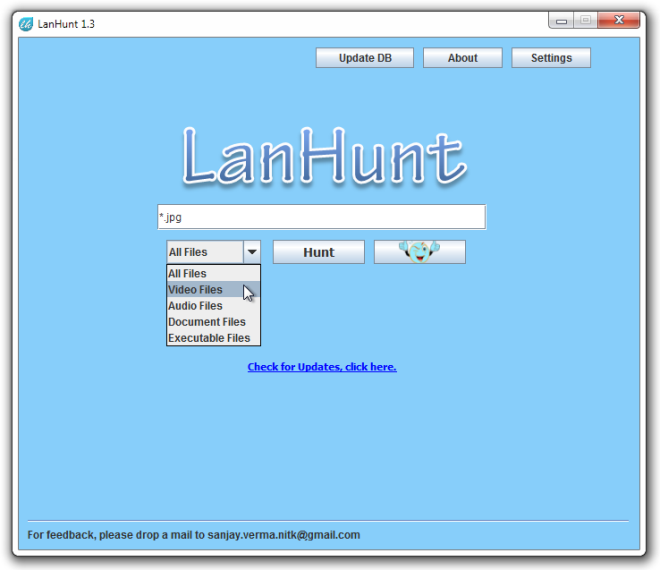 The application keeps a local database of files and folders on the network. Before you can start searching for files and folders using the application, you will need to the database. Just click the Update DB button at the top, hit Start and wait for the update to complete.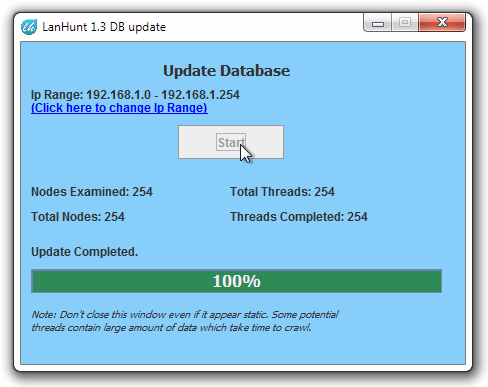 A very useful feature is that you can specify the IP range for searching the files. In order to avoid getting results from unwanted computers attached to the network, enter the start and end of the IP range that you want to include in the search.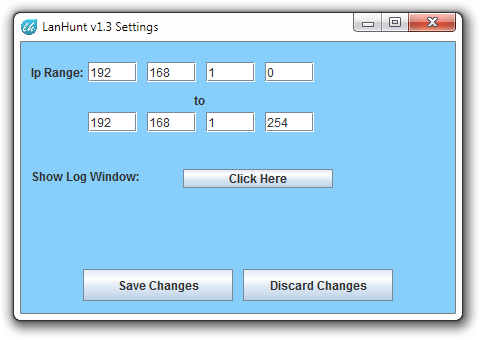 When one or more matches for your search are found, they will be listed with link provided to you for directly open their location. Other than specific files, you can also perform a general search for a file type. For instance if you are looking  for JPEG files, you can get all the JPEG images on your network in one go.
LanHunt is available in both portable and installable versions and works on both 32-bit and 64-bit versions of Windows XP, Windows Vista, Windows 7 and Windows 8.