Easy Color Replace: Change Specific Colors In Images
Choosing the right color while working on a graphics project, such as a website, is a must for making it look pleasing to the eye. Making sure that people spend more time on your webpage is a hard job, and a slight mistake in terms of graphics being too dull or too bright can turn people off. Previously, we have covered some great applications that enable you to pick the right color for your project. Some of these applications, such as Pictures to Color and Color Finder, allow you to extract colors from images, ColorToy lets you find the HEX and RGB values of a random color, and Instant Eyedropper enables you to view color values of items on your desktop and copy them to clipboard. Easy Color Replacer is an application that allows you to replace colors in existing pictures. More on this unique tool after the jump.
Working with the application is very simple. To replace the colors from an image, first add the image to the application. Click the Add (+) button and choose the image that you want. You can add one or more than one pictures at a time depending on the number of pictures that you require to change the  color of.  Then, enter an Output file prefix to put in the title of the modified file, so that even if the input and output folder is the same, the original images will not be disturbed. Click the color box in front of Original Color to choose the color that you want to change in the source image. Then, select the New Color that you want to put in its place. When everything is set, click Convert.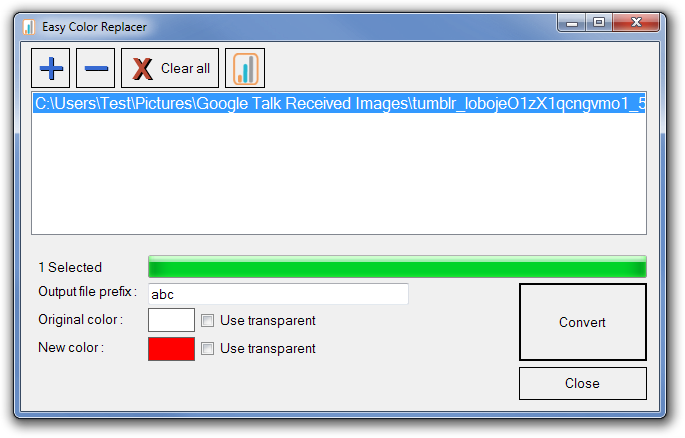 The application lacks a very basic functionality to automatically detect the colors present in the selected image. When you choose Original color, it just opens up a color palette, and you have to manually select the color that you want to change. That reduces the capability of the application by a lot. If you don't know exactly which color is used in the source image, which is actually really hard, considering the millions of colors available, you cannot use Easy Color Replacer to your advantage. We hope the developer will consider including that in his next update.
The application works on both 32-bit and 64-bit versions of Windows XP, Windows Vista, Windows 7 and Windows 8.