EasyScreenshot: Offline Webpage Capture & Twitter Credential Management
A few weeks back, we covered a screenshot taking tool called EasyScreenshot, which not only provides conventional screen capture options (e.g., Full Screen and Window capture), but also allows taking a scrollable screenshot of a complete webpage. Recently, EasyScreenshot underwent some major changes, including support for drawing a rectangle for taking a screenshot, faster application performance, an updated user interface, offline webpage shot compatibility, credentials management for Twitter, notifications for uploaded images and more. Details after the break.
The most significant change in the new version of EasyScreenshot is the minimalist interface that has perhaps been "over simplified," in my opinion. It now has three main buttons, which enable you to capture the full window, selected area and web shots. The rest of the buttons allow accessing application preferences, tool strip and minimizing EasyScreenshot  to system tray.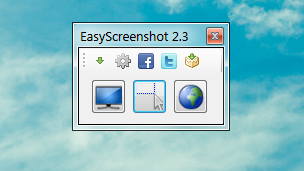 Other than capturing online webpages, now you can also capture offline web pages.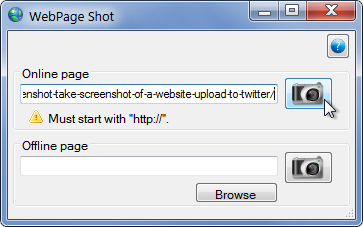 Other additions and changes include credential management feature for your Twitter account, a dark blue line when drawing rectangle, watermarking font and color selector, as well as better notification displays.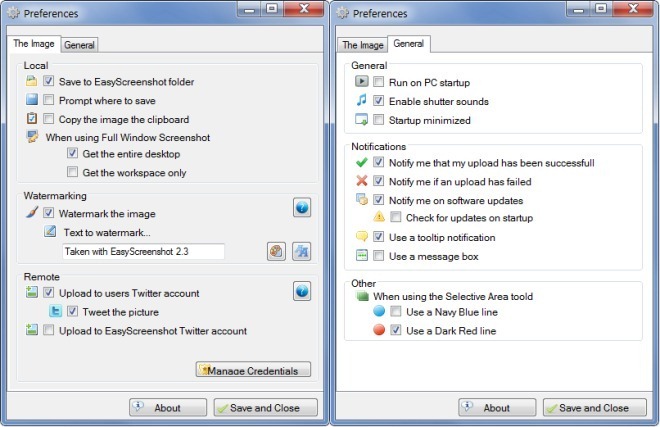 The notification options now include alerts for uploaded pictures (successful and failed upload attempts), as well.
Despite the recent changes, EasyScreenshot still needs to provide more useful options to match quality screen capture tools like Shotty and GreenShot. Adding more features to the system tray menu may be a good place to start, making the application more user friendly, as well as some robust hotkey support. It works on Windows XP, Windows Vista and Windows 7.