Easy SQL Builder – Execute SQL Commands Without Learning The Syntax
SQL is considered to be one of the core languages for handling databases and one who needs to deal with large and complex database structures must get a hang of it prior to organize the database properly. If you're going through SQL basic learning phase and trying to deal with complex databases, Easy SQL Builder is designed just for you. You can use it for entering SQL commands for, let's say, creating databases, filtering table's data, search data values, join two tables, extract columns and rows data, merge two data tables, etc., without having to learn the syntax and proper usage of commands. You just have to choose the operation you would like to perform over the table, table column or row, and it will write all the complex commands for you. In a nutshell, it automates the process of applying and executing the SQL commands over the database.
The main interface has links for SQL beginners guides to help you get started. You can also open the help manual of Easy SQL Builder to review all the provided features and usage. To begin, click create a new connection to connect with existing database. In Build Connection window, enter Connection name, Type of connection and SQL dialect. Once specified, you have to enter the Connection string to establish connection with required database.
After entering the connection string, hit Test connection to verify the connection parameters. if your database is encrypted or password protected, don't forget to enable Show login dialog to first specify the login details before establishing connection with database.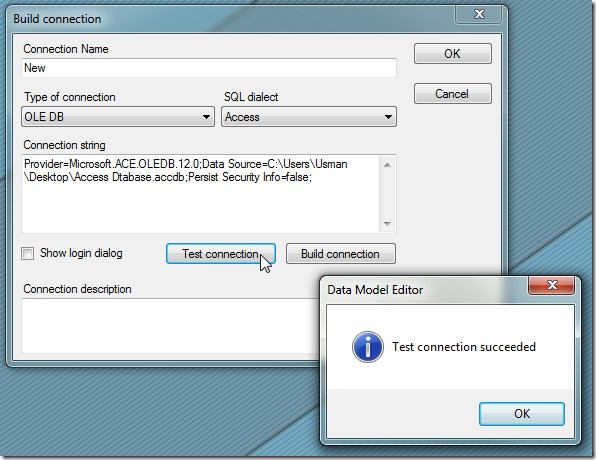 Once the connection is successfully built, it will list down all the database tables and queries in main navigation bar. The main window shows Query columns, Columns Sorting and Query Conditions panes, allowing user to just select the query option to automatically write SQL commands.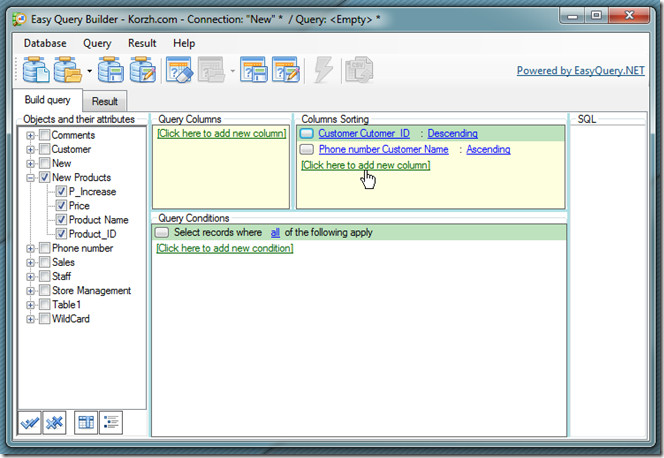 SQL query commands are shown in SQL window present at extreme right of the interface.

From toolbar, you can save current database connection, save current query, load previously saved queries, clear queries, change name of existing query. When you want to execute the query, simply select Execute Query from Query menu.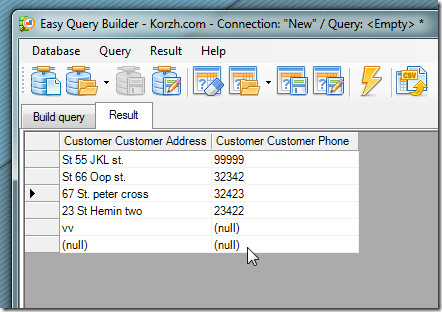 Easy Query Builder is a must-have tool for both beginners and skilled users. It works on Windows XP, Windows Vista, and Windows 7.