EasyBD Lite Is A Fast Blu-Ray Authoring Tool
EasyBD Lite is a recently released powerful Blu-ray disc authoring tool that lets users compile all types of widely supported video, audio, and subtitle file formats on Blu-ray discs without having to play with lengthy configurations. It requires nothing more than adding video and audio tracks followed by specifying time intervals for creating disc chapters to start the blu-ray disc compilation. The application is developed for both home and professional users alike. Once you get the hang of BD specification, creating Blu-ray discs through EasyBD would become easier. Since the developer focused on creating a simple BD disc creation utility, its simplified interface would quickly get you started with the process without following any extra BD disc authoring methods.
The first step is to add video and audio tracks. Click add track button present next to Save in toolbar to name the track and then specify the target video file path. Once added, select the audio file and associated subtitle files.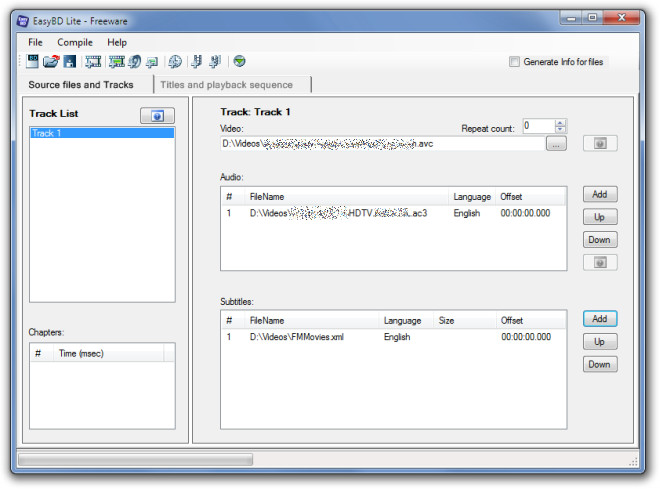 Now click Chapter time on the toolbar to insert chapters. Enter the time interval and click OK to create one. Repeat the same procedure to add more chapters.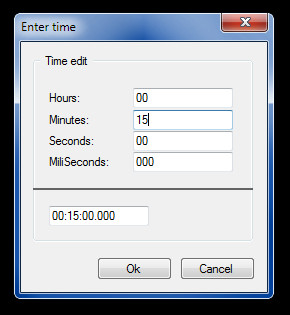 Save the project to ensure that it can be imported for compilation (via the save option from the File menu or the Save button main interface). Click on Compile button (last button from top) to begin the compilation process. Before starting the compilation process, it will ask you to import the saved project. Select the saved file to finally initiate the process.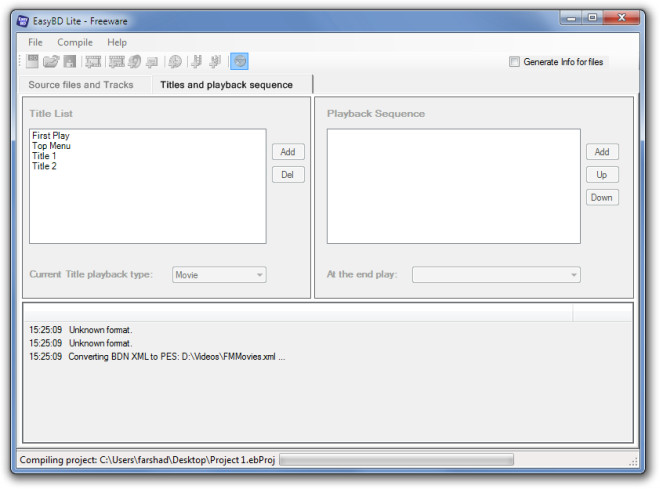 The EasyBD Lite is a stripped version of paid EasyBD program, which supports some advance Blu-ray disc authoring features, such as,  Interactive menu compilation, IG editor, slideshows and so on. You can check out detailed comparison here. It works on Windows XP, Windows Vista and Windows 7.