Edit Documents, Organize To-Do Lists And Webpages With FreeDocusTree
In today's world, time is the most important commodity and something we always seem to be lacking. To fight the issue of having less time, more and more advanced tools and techniques are being developed that allow people to perform more tasks in lesser time. However, being organized is the best way to avoid wasting any time. If you have a plan of when to do what, you will be able to be a lot more productive. FreeDocusTree is an application that has a document organizer and viewer, daily activity manager, calendar and browser, all integrated into one easy-to-navigate, user-friendly interface. It allows you to manage to-do lists, apply activity trackers and note calendars to get organized, password protect and encrypt your documents. You can access all your important documents, activities and webpages easily just by clicking on their corresponding link in the tree structure. The application lets you view, edit and print the documents, create new documents, import existing documents and add folders and sub-documents in the tree structure.
The application has a pretty simple interface with the tree structure available on the left side, and the document details to the right. There are buttons for basic document editing, including Bold, Italic, Underline, Color, Align Left, Align Center, Align Right, Bullets, Encrypted and a Find Text field. Buttons for Show/Hide Documents Tree, New Document, Save All and Reload Document are available in the center. To access an existing item, click its name in the document tree.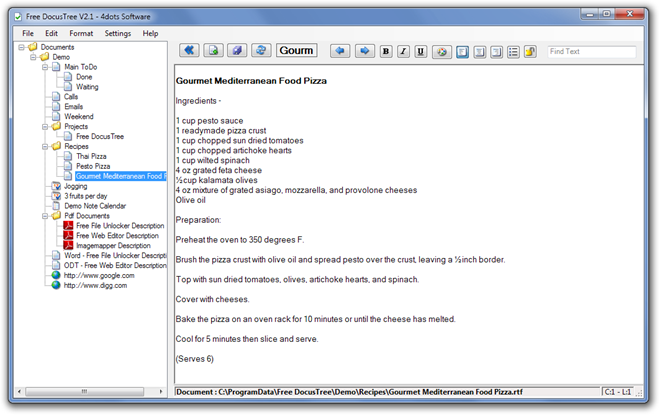 The application can handle RTF (Rich Text Format), Microsoft Word Documents, PDF Files, ODT (Open Document Text), Text Documents, saved webpages and live websites. It lets you Note Calendars and Activity Trackers and add descriptions and notes to better manage your to-do list.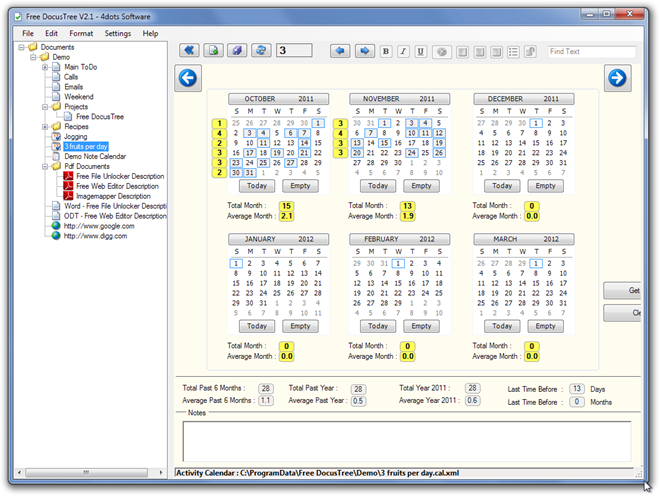 You can Add Folder, Add New Subdocument and import Existing Subdocument into FreeDocusTree from the right-click menu of an existing document or folder.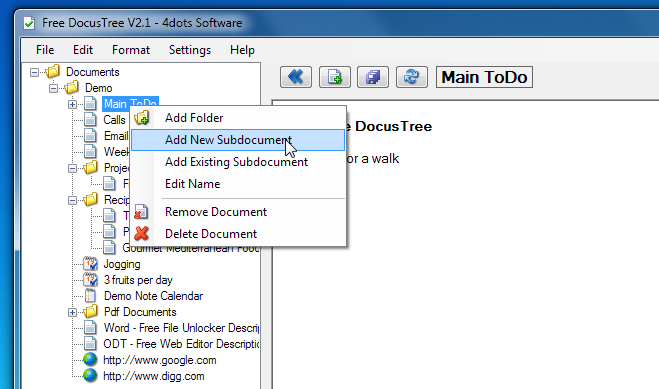 The complete list of items supported by FreeDocusTree can be accessed from the File menu available on top left of the interface. It lets you Add New Document, Add Existing Document, Add Folder, Add Website, Add Note Calendar, Edit Name, Remove Document, Print etc.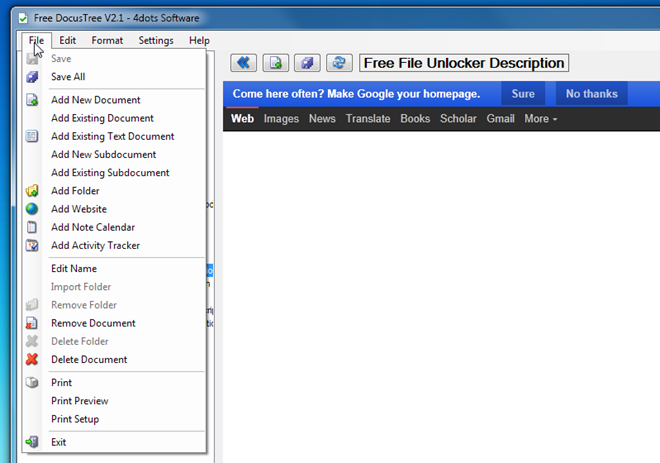 FreeDocusTree integrates itself in the Windows Explorer right-click context menu, allowing you to add documents to the application by right-clicking them in Windows Explorer, and selecting Add To FreeDocusTree from the menu.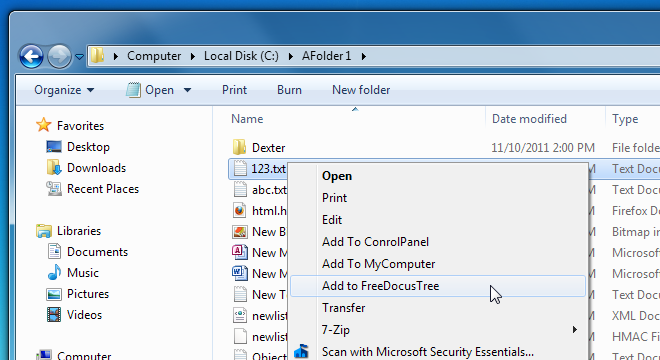 FreeDocusTree works on both 32-bit and 64-bit versions of Windows 2003, Windows XP, Windows Vista and Windows 7.