Edit Music Files Tag Information With Fey Tag Editor
In the past, we have reviewed two tag editors, AudioShell and TagScanner.The former is a Windows shell extension which offers Explorer integration to edit audio files ID3 tags while latter being an advance tool with a huge array of options to tag audio files. If you're looking for a straightforward tool without any fancy features for tagging music files, give Fey Tag Editor a shot. It offers both IDV1 & V2 tag editing with synchronization option. Adding more, you can also export tag information to associate them with other audio files and swap IDV1 and IDV2 tag information bi-directionally. It supports Amazon and FreeDB as primary data sources to fill in the required tag information.
The main interface is nicely designed, offering you a simple way to populate the list. Beneath the list, you have tag editing options, alongside all the information which is currently associated with the file can be seen in right side of the window.
You just need to select a file from the list for editing ID3 V1 and V2 tags. Under Lyrics tab, it lets you insert the lyrics of the track in question. You can also enable the use of File Format and then choose the format from the right side to replace tags.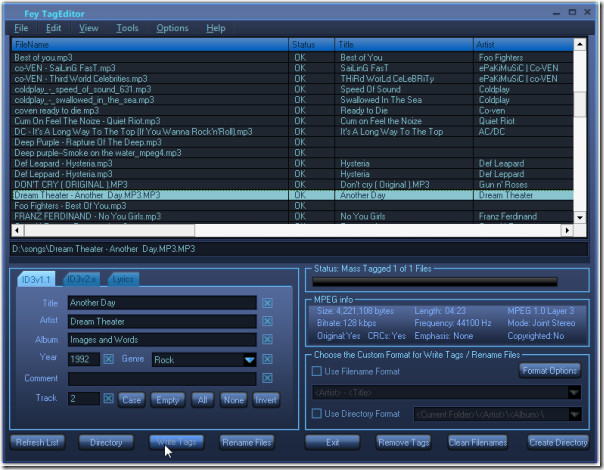 From the bottom pane, you can write tags, rename original file name, add source directory, refresh list to view mass changes, remove tags, and so on. Furthermore, all the tools can be accessed from the right-click menu. On multiple selection, you can start syncing two tracks' tags, export user-defined tag information to text document, swap ID V1 and ID V2 tag info, remove all Non-ID3 Tags, and also listen to the select track In Winamp. It must be noted that almost all the actions can be performed in bulk by selecting multiple files in the list.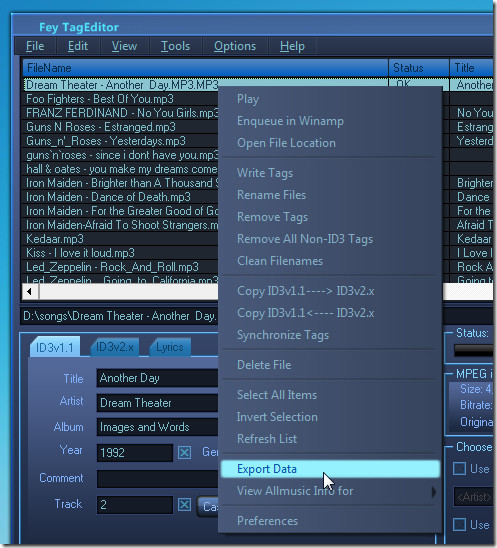 From Options menu, you can change Program and Format preferences, configure tag exporting, and change correct case and copy tag information specific settings.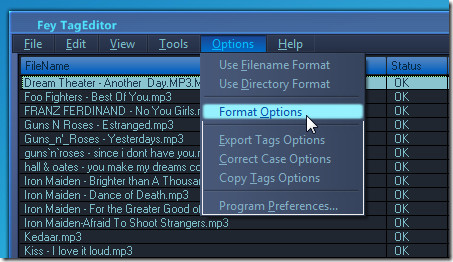 The application offers a lot more than we have covered above. During testing, we encountered some interface-related issues while some options were not fully functional. You can try it out to see if it suits you. It runs on Windows XP/Vista/7. Testing was carried out on Windows 7 x86 system.