Effectively Handle Large Number Of Archives With ExtractNow
The importance and utility of archives has always been immense, and with the rapid increase in internet dependency, cloud computing and data sharing, archives have become more abundant than ever. In my work, more than half the software that I test come as ZIP files, RAR packages or some other archive format. Extracting a huge number of these one by one can not only consume a lot of valuable time, but also be weary on one's fingers as you click through them all. Since batch operation is the buzz around the web these days, for almost every action, why should extracting archives be an exception? Apparently, that's the thought behind this utility.
ExtractNow is a small tool that makes this task easy but bundling archive extraction and doing it in batches, without any need for user intervention. With a neat and easy to understand interface, the software lets a user drag and drop archives and move on for a coffee while the extraction is done automatically.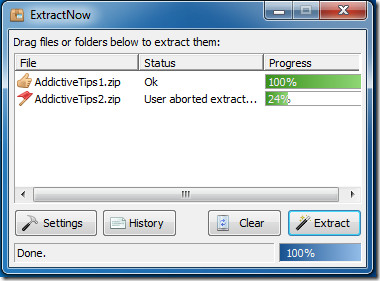 The interface consists of Settings, History, Clear and Extract. History will show all previous activities, while Settings allow control over how to software operates. Usage is even simpler; drag and drop the archives that you want to extract and hit Extract. Depending on your settings, the software will either put extracted files in parent directories of user-defined output folder.
The software can handle quite a few archive formats, including ZIP, RAR, TAR, CAB, DMG, ISO, MSI, etc. Do remember that it is only an extractor, and not an archiver itself.
ExtractNow has an elaborate settings panel where you can tweak quite a few options, like exclusions, destination folders, password protected archives, post extraction behavior, etc.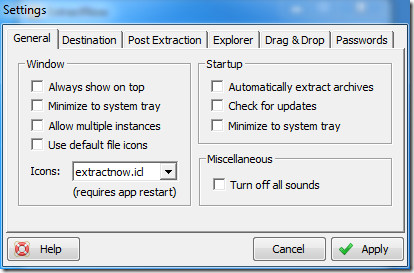 Main features of the program include:
Support for ARJ, CAB, CHM, CPIO, DEB, DMG, HFS, ISO, LZH, LZMA, MSI, NSIS, RAR, RPM, UDF, WIM, XAR, Z, ACE, SIT archive formats
Drag and drop files or folders from Windows Explorer to extract them
Simple user interface and sleek design in a small package
Recursively search through folders for archives (Just drag and drop them)
Delete files or close program after extraction options
Windows explorer file associations for all supported archive types
Extract files into current directory, named folder, or favorite folder of choice
System tray icon on Minimize and Always on top features
Integrates with Windows Explorer via special context menu items
ExtractNow comes as a 1.41MB exe download and works with all versions of Windows OS, including Windows 7.