eHour: Advanced Time Sheet Management & Workspace Control Utility
The value of time is recognized by all those aiming to achieve efficiency and effective resource management. Individuals may track their time utilization against activity to maximize their productivity, while large scale organizations rely on time sheets to keep track of work distribution, status and other managerial indicators to maximize output in the minimum possible time. Keeping these goals in focus, the significance of a user-friendly interface coupled with comprehensive documentation facilities assist managers in making the most out of their time. eHour is an accurate timesheet management utility that keeps you informed about the time spent on various tasks in multiple projects. It supports a variety of languages including English, Dutch, French, Italian, German and Polish. . With features like Excel Report generation, segmented roles and custom-specified localization and currency options, this application promises to add value to your work environment.
The application requires Java Runtime Environment to work. If your system is 64-bit, please download the relevant JRE installer to avoid any issues. As soon as the installation completes, open your browser and open your local web server (localhost:8000). For the first time you will be required to enter both username and password as admin to set up your account after which you will be welcomed by a simple yet user-friendly dashboard.  You must create a customer and a user first, before configuring any project and assignments. eHour runs in the background recording the relevant information.
You must login to various roles (user, reporting and administrator) to access the relevant options (time tracking, documentation and control). Time management features can be accessed by logging in as a user and clicking your hours that subsequently displays a monthly overview of the activities or tasks overlaid with time. You can define leaves or holidays using the integrated calendar placed at the top left corner of the workspace.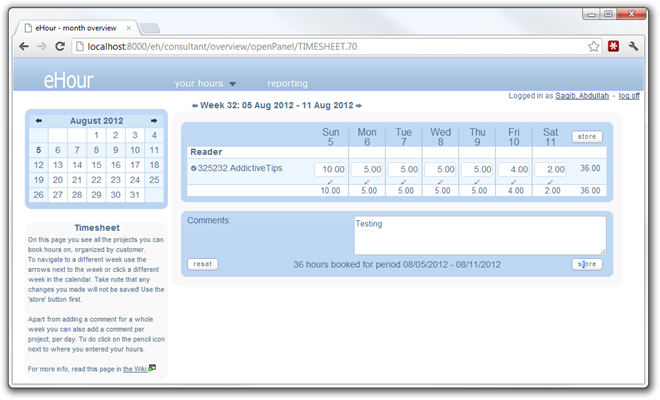 The reporting tab, on the other hand, provides a hawk-eye view of the Report criteria, Customer report, Project Report and User Report in accordance with your requirements. Data can be viewed both graphically as well as in tabular format, and you have an option to download the entire dataset.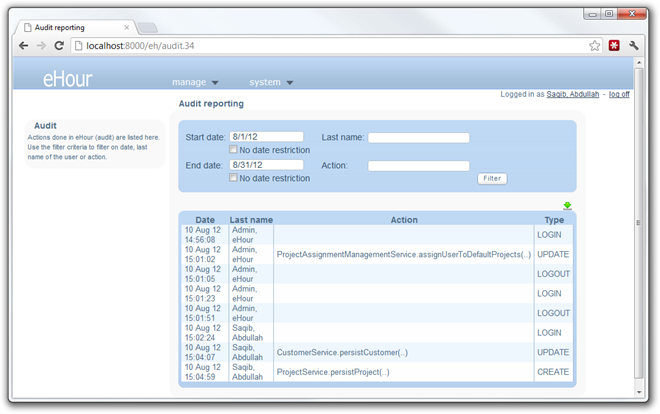 Moreover, you can easily maintain timesheets using the application. After configuration, you can navigate from a specific week to another with the freedom to comment either per week or per project, consistently. Additional comments or notes can also be added to critical task or time periods to highlight modifications, notifications or support information.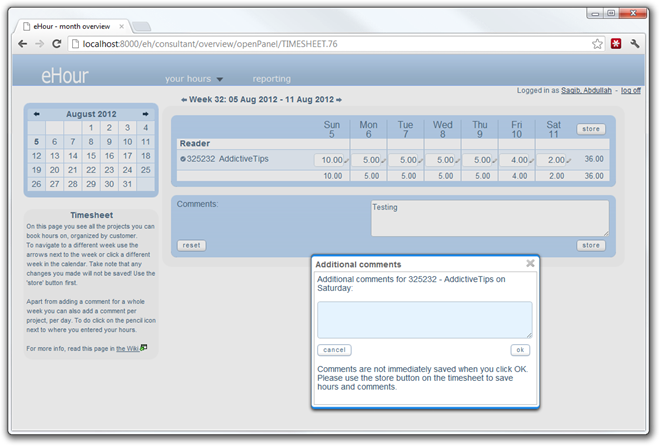 The Detailed report tab allows you to view the overall picture with emphasis on the customer, project, administrator, comments history, number of hours and turnover. You can zoom in to a specific time period in the color-coded graph depicted below the summary. Similarly, it supports downloading the data in the form of Excel spreadsheets coupled with the option to print from within the interface.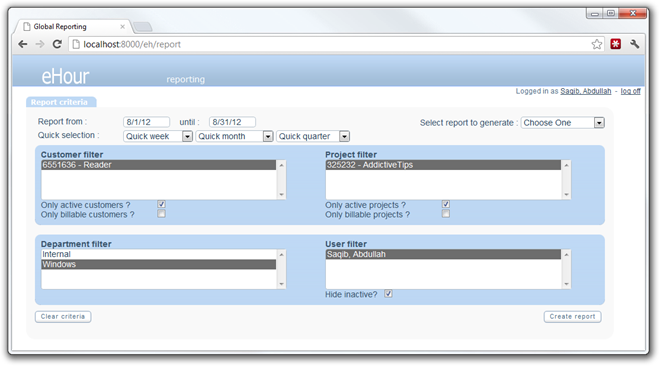 All in all, eHour is a useful application striving to save each moment of your work time, valuable and traceable to the tasks being pursued.