Email Reminders Or Send Them To Your Phone With MemoranDumb
As we rely more on modern technology to pay our bills, remember passwords for us and manage our schedule, we often tend to forget that the same chores that we now do in a flash, used to take us hours of waiting in lines and running from one place to another. Having said that, it is worth mentioning that now we often get in a hassle of remembering which application to use for what task and seldom do we find a unified gadget that combines all our required data for us to conveniently utilize. MemoranDumb is one such software that unifies all your passwords, reminders and the like under a secure master password and even allows users to email or text them to their cell phones.
The main interface allows users to add, edit, delete or sms any of the saved login credentials, billing information, reminders, etc. It is much like a personal assistant who helps us manage and remember our day to day chores.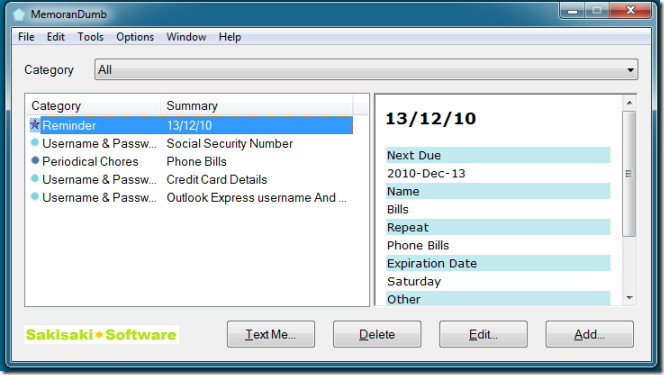 When adding a new item users can categories the item for their convenience in order to identify the saved data. This can be particularly useful in sorting out reminders, passwords, etc from the main interface in the category section.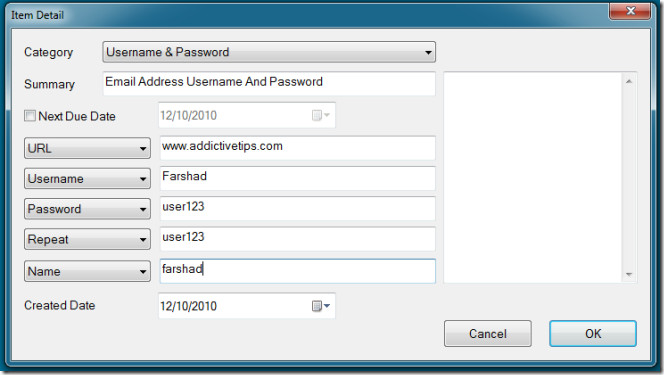 Similarly, users can categorize other relevant information for their convenience. For instance one may choose to save billing information when adding a periodical chore or a reminder.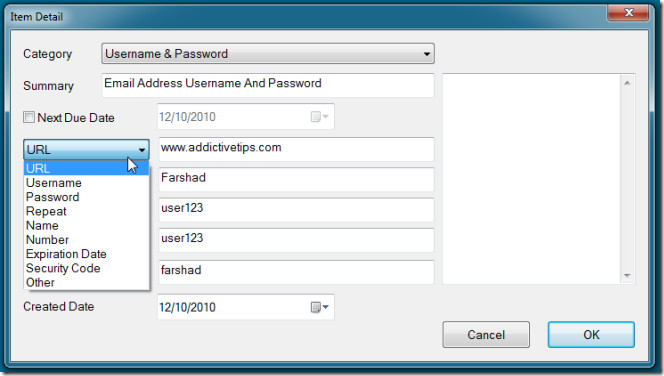 The nice part about this software is that it allows users to keep a master password in the form of a secret question in order to secure the users personal information. You can add this password by going to the options tab from the main interface and then clicking on security. From there you will have to check the enable option and add a secret question of your choice. From then onwards the answer to this question will unlock the software every time you start it. My advice would be that you shouldn't keep simple answers to the secret question as that might put your personal information at risk from any possible malicious source. For example the answer to a secret question such as "What is your favorite drink?" should not simply be "Pepsi".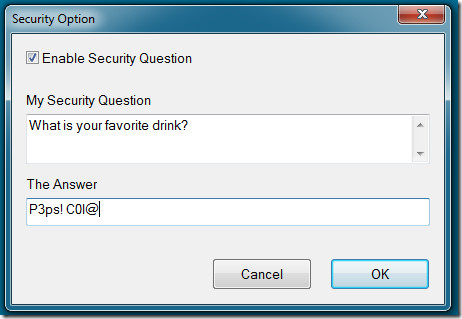 One unique feature that is noteworthy in this software is the option to email or text any saved information to an email address or cell phone. This option can be configured after going to the text me section in the options tab. Here you can add a cell phone number followed by the relevant telephone operator or simply add your email address to send the relevant information to yourself. Whenever you open an item that contains your personal information you will be able to send it to yourself or the configured email address or cell phone by clicking on the text me button.
MemoranDumb provides details of the tasks that are due, every time you log in. This reminds the user of any due dates that may be near and any extended dates that may be present to get the chore done.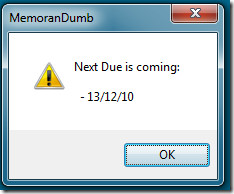 It is quite a handy tool that can help circumvent the hassle of managing too many passwords, reminders, etc, in separate applications. This freeware works on Windows XP, Vista, and 7. Testing was done on Windows 7 64-bit system.