EmproNetUsgAlert Alerts You When Daily Allowed Bandwidth Is Exceeded
Internet Service Providers offer various internet packages to their customers. Some comprise of unlimited bandwidth, which means you're not bordered with any kind of monthly volume. Others come with data caps and you're not allowed to go past that cap, depending upon your ISPs terms and polices. If your internet subscription package allows you to use unlimited bandwidth, then you probably don't need any bandwidth usage monitoring tool, however, in case your internet connection has a data bandwidth cap, you should keep a track of how much data is being uploaded and downloaded in order to avoid extra usage. Although I own a package with unlimited bandwidth, I still like to keep an eye on how much data I upload and download. This gives me glace over how much data is being transferred to and from my PC. For this purpose, I use NetSpeedMonitor, a network monitoring application that displays the current upload and download rate and maintains a record of the total data transferred during a day. Recently, i found another such tool labelled as EmproNetUsgAlert. The application is designed to monitor bandwidth usage and alert you when a specified limit is crossed. Keep reading for more details.
The main interface of the application has Quota Type, Traffic, Unit and Allowance options at the top, while the Alert settings can also be configured. To start using the application, first choose the Traffic type (Uploads & Downloads, Uploads Only and Downloads Only), select the Unit type (Gigabyte or Megabyte), and then enter the total data bandwidth limit. Now, specify the Alert options including the minimum percentage of allowed bandwidth used to display a pop up notification, and how often to show the alert. Once all settings are in place, click Apply to run the bandwidth usage monitoring process.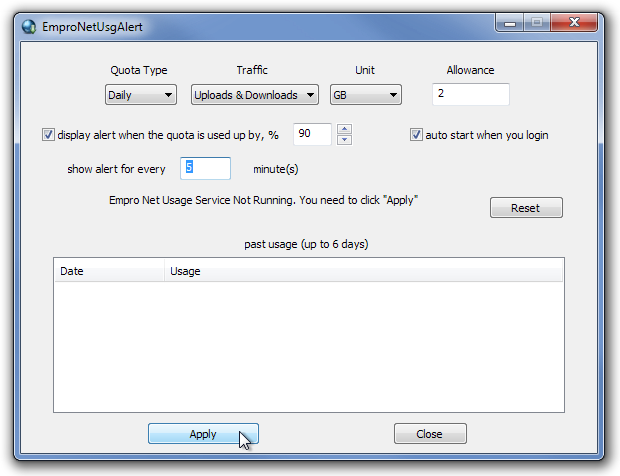 Once your data usage reaches the specified limit, you will receive a notification in the bottom right corner of your screen. The message includes the Total Usage along with the Quota specified for the day.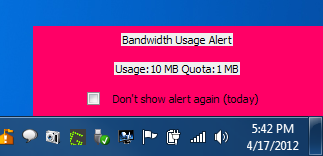 If you want to use a network monitoring application with more options, try the previously reviewed BitMeter 2, which counts the total download and upload speed every second, and keep tracks of your bandwidth for the whole week or month. EmproNetUsgAlert works on both 32-bit and 64-bit versions of Windows XP, Windows Vista, Windows 7 and Windows 8. I tested the program on a 64-bit Windows 7 Ultimate operating system.