Emsisoft Emergency Kit: Malware Scan, System Analysis & Registry Cleaning Suite For Windows
Whenever a computer is infected with any malware or virus, a lot of times, installation and proper execution of Windows, as well as third party applications, gets disturbed. This means that you cannot install new programs to your computer in order to fix the issues. Sometimes, even the Windows Task Manager is disabled by some viruses, so that you cannot manually kill the processes responsible for the malicious activity. An antivirus program can protect you from all this; however, if the antivirus fails to detect and stop the malware from infecting your system, you might find yourself in a situation where your whole computer is rendered useless. Today, we have a portable malware scanner, system analysis and cleaning suite named Emsisoft Emergency Kit.
The application can detect more than 5 million known dangers and sports a dual-scan engine. The Security Status provides you with updated details about the previously discovered infections, and lets you specify custom scan settings to look for malicious objects. The detected objects can be directly deleted or quarantined, depending on your preference. Other than the Emergency Kit Scanner, the download package also includes HiJackFree (system analysis utility) and BlitzBlank (system/registry cleaner).
Application Usage
The main interface of the application contains four tools: Emergency Kit Scanner, Commandline Scanner, HiJackFree and BlitzBlank. The tool in question, Emsisoft Emergency Kit, can be launched from here.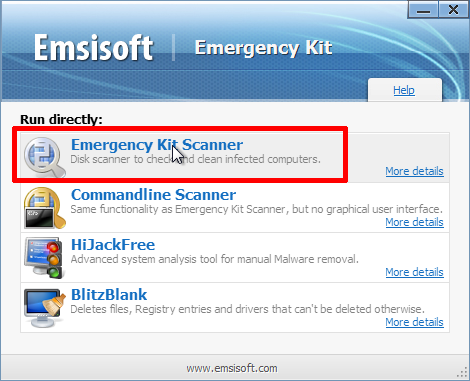 Once you run the Emsisoft Emergency Kit, you will find 4 tabs in the left side of its main interface, named Security Status, Scan PC, Quarantine and Configuration. The Security Status tab displays a summary of your Malware Scanner history and Emergency Kit version and update settings. To scan your computer, click the Scan Now button.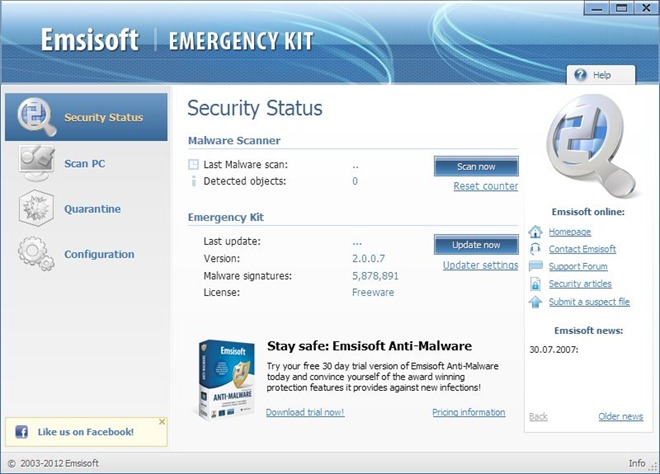 Clicking the Scan Now button takes you to the Scan PC tab for scanning your computer for infections of Viruses, Spyware, Malware, Trojans, Rootkits etc. It allows you to choose between four different scanning modes. The Quick Scan inspects all active programs for traces of Spyware in your system, while the Smart Scan also adds programs and Windows files to the scanning list. All files and folders on each connected hard drive are thoroughly scanned in Deep Scan, while you can choose specific items for scanning in the Custom Scan mode.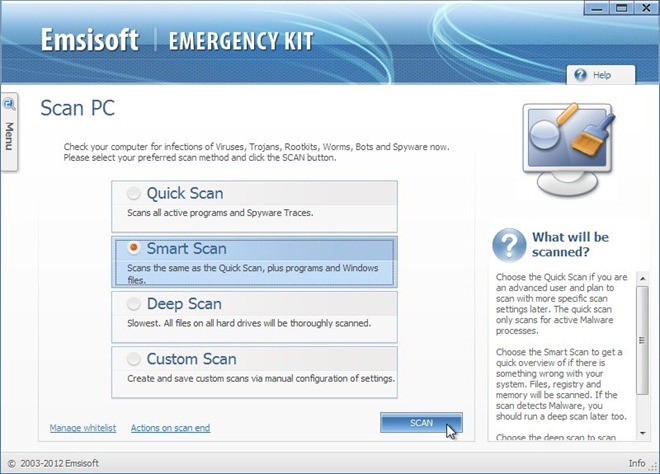 The Custom Scanning mode lets you select which objects to analyze. You can choose to scan for active Rootkits and Malware, Spyware tracks and Tracking Cookies. Moreover, options are also available to configure the depth of system scan and apply file extension filters.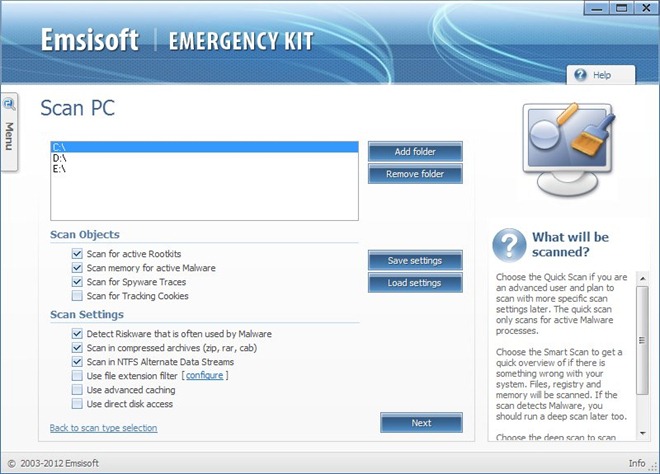 Once the scan is finished, a complete report is generated by the program, listing all the found infections. You can either quarantine the objects, or directly delete them from your system. If you are not certain about the file, it is advisable to send it to Quarantine instead of deleting it.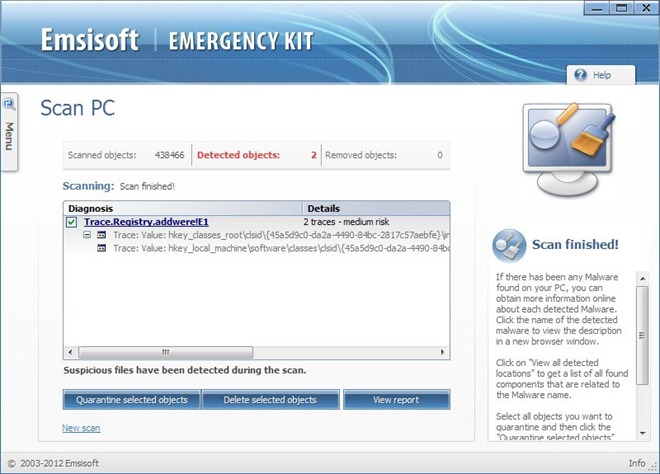 The Quarantine tab contains all the items that you have previously isolated. There are options to Save Copy, Submit file, Re-scan, Add file, Restore and Delete files from the Quarantine.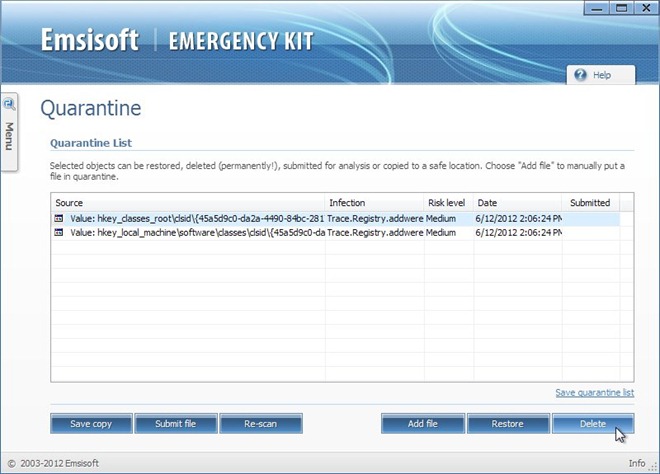 The Configuration panel is quite minimal and lets you change the program language and choose if you want to re-scan the Quarantined items when the application is updated with newer Malware signatures. It lets you restore previously quarantined false detections as well. You can choose to silently let the program rescan the list in the background, manually start rescanning or not rescan at all.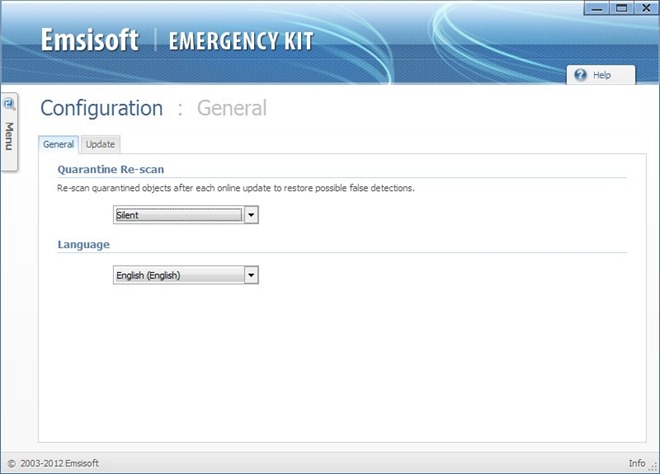 The HiJackFree tool allows you to manage the Processes, Ports, Autoruns, Services and Other items running on your system. You can kill Processes, view information of open Ports, manage your Windows Startup by adding new items and editing & deleting previously available items from the list, Start/Stop and Install/Uninstall services, and manage other objects (Explorer Add Ons, LSP Protocols, Hosts, ActiveX). When you select any item listed in Processes, Ports, Autoruns, Services or Others, its File Properties, Process Details, Digital Signatures, Hashes etc, are listed in the lower part of the main interface. The File Properties include information, such as File Name, File Path, Description, version, Copyright, Size, Created Date etc.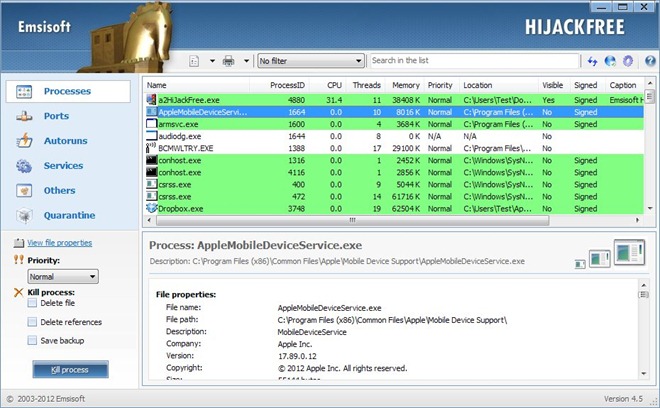 Pros & Cons
For one, you don't have to install the application. It means that any malware that effects the installation of new programs, will have no impact on the execution of Emsisoft Emergency Kit. You can also carry it around in a USB drive, and it can be run directly from the flash storage. The multiple scan options grouped together in a unified interface let you easily select the one matching your requirement. Addition of tools such as HiJackFree allow you to easily kill malicious processes and stop shady services. The program's interface is easy to understand and navigate even for novice users.
On the negative side, some of the included tools, like the Commadline Scanner and BlitzBlank, are not meant for amateur users, and cannot be utilized by them. However, we really don't count this as a con, as the program is not really aimed at amateurs anyway.
Verdict
Emsisoft Emergency Kit is a very useful application because of its ability to thoroughly scan and detect malicious items in your system. The portability makes it possible for you to use the program even if the computer is already infected and new applications cannot be installed. Since Emsisoft Emergency Kit does not interfere with the installed Antivirus, it is a must have for people who want to keep a another layer of security for their system as a backup.
The application works on both 32-bit and 64-bit versions of Windows XP, Windows Vista, Windows 7 and Windows 8.
Download Emsisoft Emergency Kit