EncodeHD – Convert Videos To Mobile And Home Media Player Formats
Last year we reviewed Encode HD which is a converter for re-encoding different types of video files. Since then, it has received six updates and has added new presets and changes. In this review we will explain the numerous changes and enhancements of EncodeHD up till its last update which took place in February 2011 and look into some of it's usage details. It is a highly recommended converter for beginners, due to it's immensely simplified encoding options.
Other than cosmetic fixes and FFmpeg update, EncodeHD now delivers WDTV profile outputs to MP4 instead of M4V to fix file-seeking issue, allows stream copying, has added WTV and Apple TV2 support. The only thing which it perhaps lacks is a bit of enhancement of the Add/Remove buttons which can be a bit difficult to locate at a glance for the first time. Even those of you who may be new to EncodeHD, can use it with the utmost ease. Just add video(s), select a conversion format and click Start to begin the encoding process. You can specify an output folder and optionally auto split folder after 4GB size from options at the bottom of the progress bar.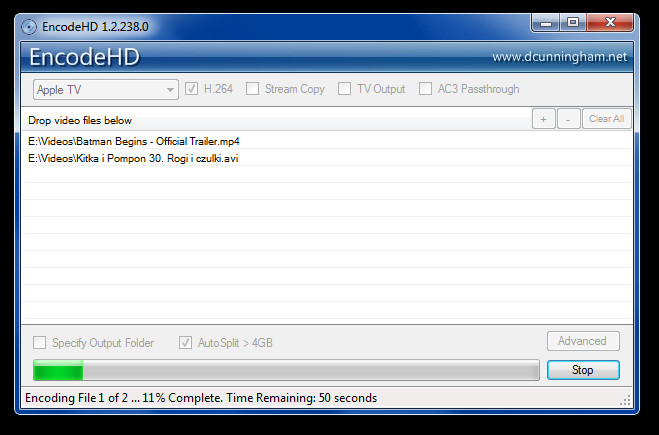 The complete list of supported formats for file conversion using EncodeHD now include the following:
Apple TV, BlackBerry (8100) Pearl, BlackBerry (8200) Kickstart, BlackBerry (8300) Curve, BlackBerry (8700) Electron, BlackBerry (8800) Indigo, BlackBerry (8900) Javelin, BlackBerry (9000) Bold, BlackBerry (9500) Storm, HTC Desire, HTC EVO 4G, iPad, iPhone, iPhone 4, iPod 5G, iPod Classic, iPod Nano, iPod Touch, Nexus One, Nokia E71, Nokia N900, Playstation 3 , PSP, T-Mobile G1, Western Digital TV, X-Box 360, YouTube HD, Zune, and ZuneHD. Overall EncodeHD has matured as an application with the passage of time and the developers have continually added more presets for making it a more useful app. If you haven't tried it yet, you should now.
EncodeHD works on Windows XP, Windows Vista and Windows 7.