Erase Your Files Permanently With Secure Wipe
Deleted data is recoverable even after it is removed from the Recycle Bin. Many data recovery software, in fact are designed to recover such data. This poses a potential threat to any confidential information being recovered by a malicious source. For example, you may wish to permanently remove all trace of confidential information before selling your PC or lending it to someone temporarily. Secure Wipe is an application that permanently deletes data from a specified directory or file. It is quite similar to the previously reviewed Moo0 Anti-Recover, however, it provides choosing file deletion parameters unlike the latter.
To delete data, select a file or folder to delete data from and click Erase.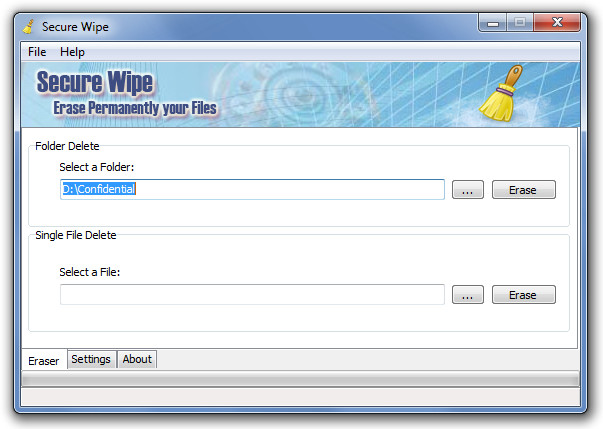 This will instantly delete the selected data from the specified location.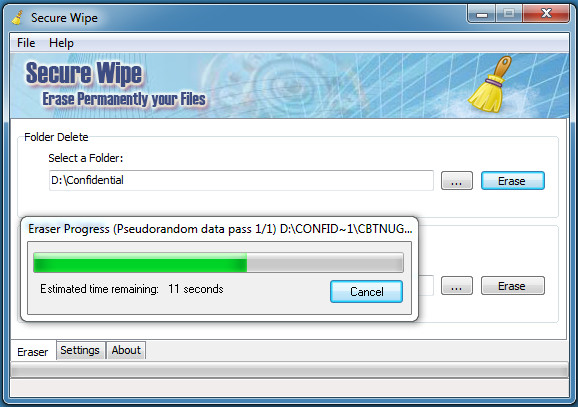 You can also configure advanced settings from the Settings tab. From here, memory usage can be restrained (useful for systems with less RAM), sub folder deletion can be activated, file erasing parameters can be defined and silent mode can be enabled to allow Secure Wipe to run in the backdrop. You can choose to delete files using Pseudorandom – 1 Pass, RCMP – 3 Pass, Gutman 35- Pass US DoD E – 3 Pass,etc and define the number of passes per file.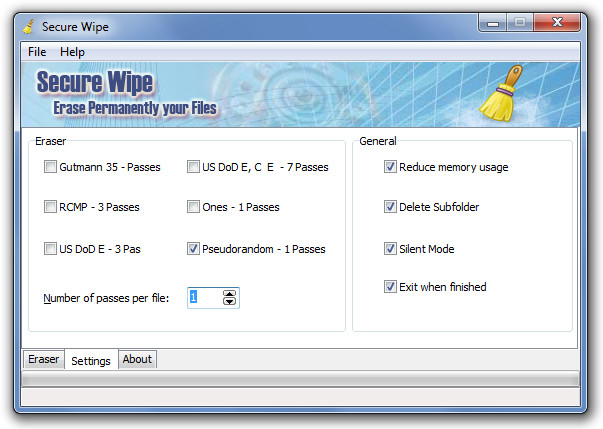 Portable version of Secure Wipe is also available. It works on Windows XP, Windows Vista and Windows 7.