Espera: Windows 8 Metro Inspired Music Player With Party Mode
Windows 8 launch is just around the corner and various Metro 'Windows 8 UI' inspired apps are already making their way into our PCs. Even though the Redmond giant has promised to launch a full blown Windows Store with the new OS, akin to what Apple has been doing for quite long via Mac App Store, open source community is one of the most convenient places to download applications without paying a dime. Today's Windows 8 UI-esque recipe is a music player called Espera. It's an open source app that seems to be carved directly out of Microsoft's next major operating system release. Along with being a decent music player, the application is designed to stream YouTube videos (provided you have VLC media player installed on your computer). The keystone feature of the application is its Party Mode, which allows you to lock various user interactions with the player itself, a feature that can be used amidst dance parties so no one can alter your music library and/or delete your playlists. The user-interface is very minimalistic, and admittedly, the application as a whole still seems to be a work in progress. More to read after the jump.
Espera has Artists pane to the left hand side of the screen, and as of this writing, is the only way to sort your music. The application doesn't automatically scan your music library upon first launch – a feature commonly found in various other media players. To manually perform the said function, click the add (Plus) button at the top left corner and select your music directory. There is another twist to the story; to play a music file, you must first create a playlist and then move the music files to the newly created playlist. To do so, select an artist (or use the search field to look for specific song, artist or album), and from an audio file's right-click context menu, click Add to Playlist. You are able to create as many playlists as you desire, and shuffle songs within each playlist.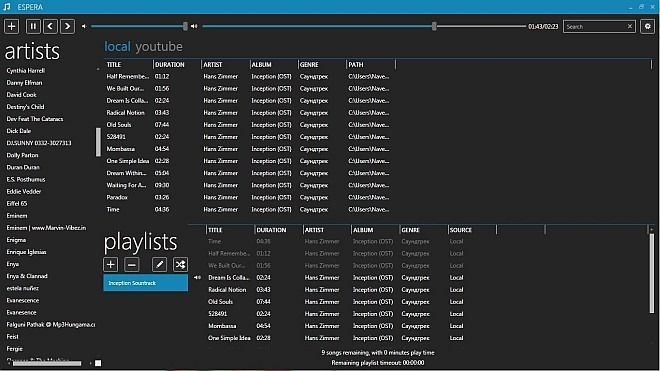 As mentioned earlier, the application also allows you to stream YouTube videos. First click YouTube on the upper side of the application and you will see some randomly selected videos by the program. The procedure which applies to play music from your local directory goes the same here as well, making it a cumbersome task. It lets you see the selected item's thumbnail as well as mini description to the left. Unfortunately, none of the videos that I tried playing worked, as Espera was instantly met with application crash.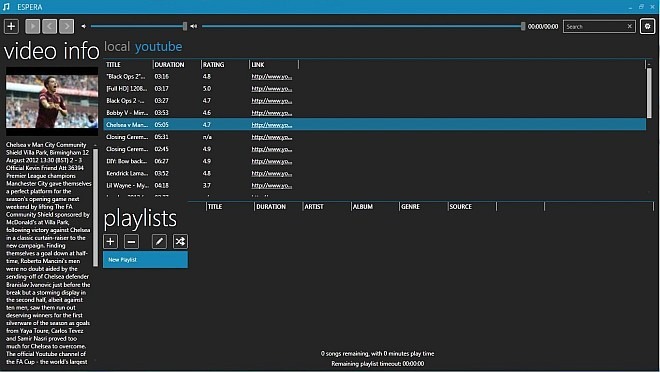 Clicking the miniscule tool button to the right corner of the screen opens up the settings pane, which allows you to change player accent (skin color) and toggle various party mode options. It also allows you to specify user password for the party mode.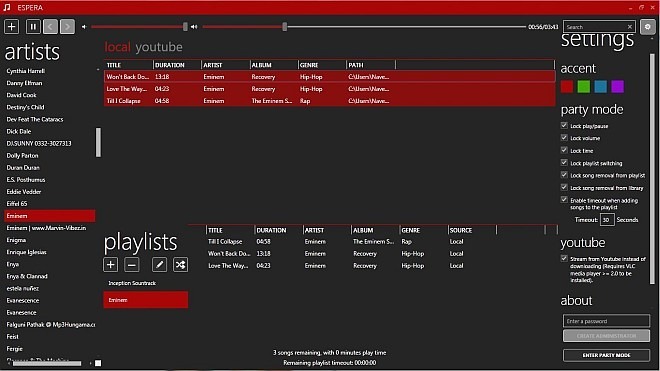 Verdict
Although Espera does have potential, I was quite disappointed to find the various bugs in the program. First, it won't allow me to play any YouTube videos, and then, upon exit, all the application's settings get reset, reverting back any changes you may have made, which also wipes off your music library and playlists. Lastly, the player would constantly crash when switching among various music tracks. I hope the developer will remove these bugs in the next release. Espera is available both as portable and installation packs, and works on all versions of Windows.