Ever Password: Store And Sync Your Credentials On Cloud Server
If you are a person who is cluttered by the gargantuan amount of credentials information, which may be related to your credit cards, driver license, bank accounts, passport and email accounts, etc., and need some support to manage and keep safe all that important data, then Ever Password might be what you were looking for. This handy tool works on the bases of cloud computing, and syncs your information across all the major supported platforms and devices that you may currently use, like Windows, Mac and iOS. The application employs a user account that you can create by signing up on Ever Password's web server, and then access all your credentials under one umbrella. The easy to use, yet elegantly attractive interface provides access to the information under the Vault, which lets you see and edit your credentials, safely protected by one master password, so you don't have to remember different passwords for different credentials that may further bewilder your mind.
When you run the application for the first time, you see a login screen where you can click Free Sign Up to visit the service's website and create a new user account. After the successful activation of your email, use it on the login screen as well as input the master password to get started.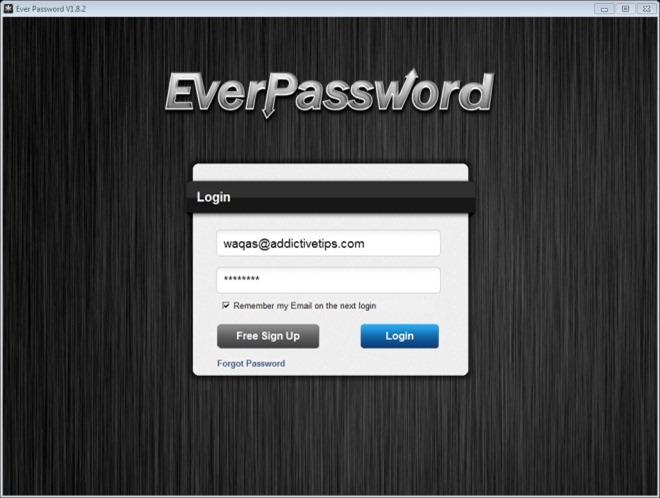 The application consists of four tabs, Vault, Settings, Dashboard and About. There are twenty different credential categories in the Vault tab, which means you can sync almost all kind of information ranging from a website login to your insurance policy to even a mere note that you might have jotted down for some later use. You can enter and sync your credentials from any device and it will almost instantly be uploaded to the cloud. To enter your credential, just select it from the Vault menu and click the Plus button next to Most Used tab. After entering your information, you will need to go to settings to manually sync it. I created a new test note for testing the application, and uploaded it to the cloud server.
Next, I installed Ever Password app on the iPhone and logged in using the same procedure as on the windows. The Test note was successfully synced to the the iPhone as well, almost instantaneously. You can also access the information from Ever Password's own website, which means the cloud works pretty well across all supported platforms.
Ever Password is a pretty solid cloud based tool that is not only quite simple to use, but also saves you the headache for storing all that precious information somewhere safe. If you've been looking for a viable, free alternative to LastPass that works on mobile platforms as well without costing you a dime, do check this tool out. Alternatively, you may check out Norton Identity Safe as well.
The applications works on Windows XP, Windows Vista, Windows 7, Windows 8 and Mac. While both 32-bit and 64-bit OS are supported.