ExcelArt: Create Image Clip Art Spreadsheet In Excel 2010
ExcelArt is portable application to create image spreadsheets in Excel 2010 and Excel 2007. It converts Jpeg, GIF, and PNG image files into mosaics, useful for creating spreadsheets with photos, logos, or emblems.
Unlike the default image clipart feature in Excel 2010, this app will create a spreadsheet that contains images defined by resolution(cells). It automatically estimates the the final excel file size and time required to convert the image.
Launch the app, hit Click to Change image to add image files. The preview will be shown on the right side where you can choose the desired resolution(cell size) and click Create ExcelArt.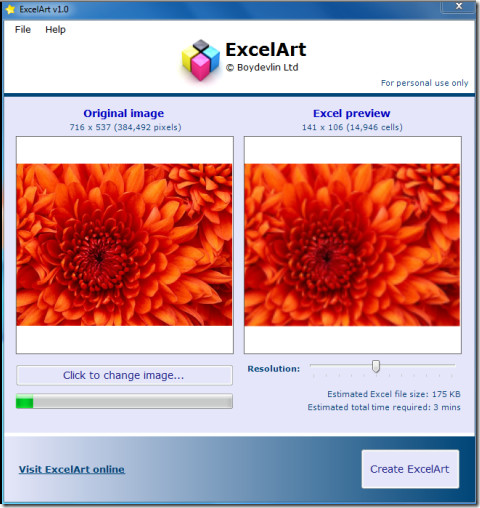 Once completed, the excel spreadsheet will be created in the same directory where the app is residing.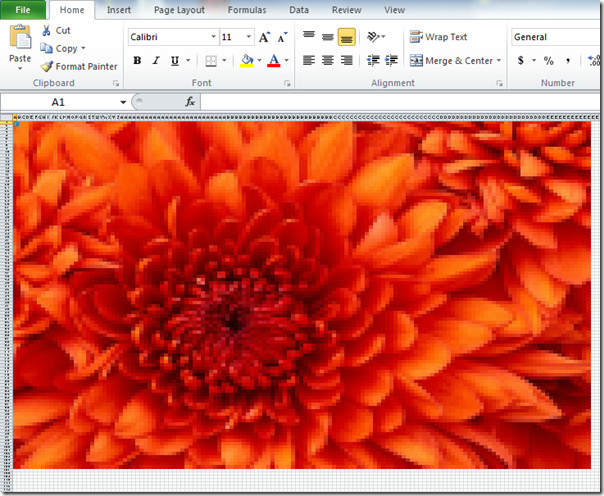 Currently ExcelArt converts images with limited resolution (141×106) that makes up to 14,946 cells. Any image that takes up more than that will not be created since it requires the paid version of the app. We believe for adding small images in the spreadsheet, this limit is enough for most users.
It runs on Windows 7, Windows Vista and Windows XP.