Exchange Health Monitor Checks Health Of Microsoft Exchange Server
Exchange Health Monitor is a mail server monitoring tool for Microsoft Exchange Server which provides an overview of the mail server in graphical format and provides a snapshot of the real time functionality of the Exchange Server(s).
The main interface provides general help options (? icon) and change Settings option. These are the two basic options on the main interface, whereas a button at the bottom provides a link to other tools from the developers website. Click the Change Settings option to connect your Exchange Server to the tool.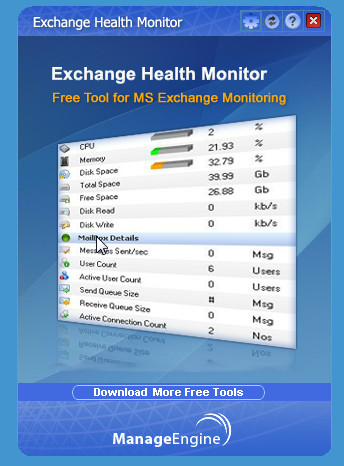 To start monitoring the health of your mail server, simply add the Domain name, server name, username, password and click Connect after selecting your desired parameters. This tool currently provides health monitoring for Exchange Server 2003/2007. Therefore, a downside is that it currently does not support Microsoft Exchange Server 2010.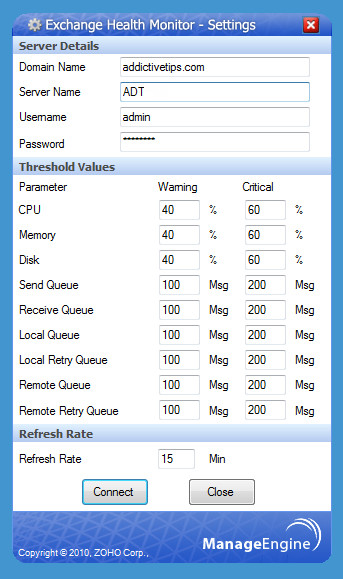 With the help of this tool server administrators can get information about the following details:
Server Health Details
CPU usage
Memory usage
Disk space
Disk read/write rate
Mailbox Details
Messages Sent/sec
User Count and active user count
Send and receive Queue Size
Active Connection Count and client logons
Transport Details
Active, retry Mailbox Delivery Queue
Active, remote Delivery Queue
POP/IMAP
POP3 Current Connections
IMAP4 Current Connections
It is capable of deployment on Windows XP, Windows Vista and Windows 7 provided you have .Net Framework 2.0 or higher installed.
Download Exchange Health Monitor