Express Menu Supplements Windows Start Menu, Access Apps Quickly
Windows 7 Start Menu includes Pin to Start Menu option( accessible via right-click context menu in Start Menu) to get instant access to most frequently used applications but what if you require pinning 20 odd application links in Start Menu? If you're already dealing with an overcrowded taskbar and desktop, with no extra space to add items to Windows Start Menu, try out Express Menu. It's a supplement to Windows Start, developed to give you one-click access to applications and folders without having to pin them in taskbar or Start Menu. It provides a customizable menu at top-left corner of the screen to add as many folders and application links as you want. Express Menu operates from system tray, allowing you to refresh and show application menu.
Express Menu comes with pre-defined Win + Z hotkey combination to show and hide the menu. It reads menu definition from Menu folder present in C:\Program Files\Bullzip\Express Menu. All you need is to open the Menu folder and put application and folder shortcuts to insert them into the menu.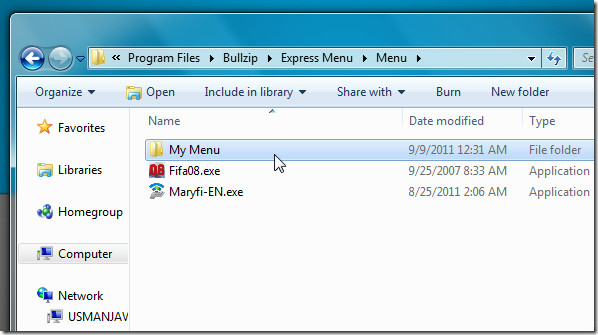 Once done, right-click its system tray icon and click Reload to refresh the menu list.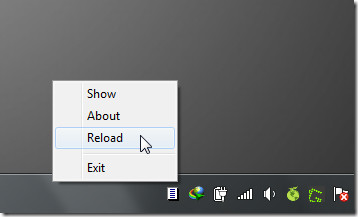 Clicking Show will reveal the menu at top-left corner of screen. However, using Win+Z hotkey combination will save you some extra clicks to access applications from the menu.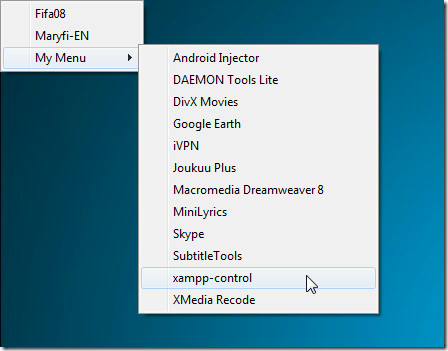 Express Menu isn't meant to replace standalone application launchers or desktop item organizers, rather it's a simple application to create menu for accessing frequently used applications. Express Menu works on Windows XP, Windows Vista, and Windows 7.