Extract Required Windows 8 Log Files With Windows 8 Log Collector
It is often required by system administrators to fetch different kinds of log files to identify system issues. For example, you might have to check event logs in order to identify issues with a startup applications and to investigate a BSOD (Blue Screen of Death). Collecting these log files from numerous sources can be quite a time consuming task. Windows 8 Log Collector is a portable application that quickly fetches numerous Windows 8 log files for MSINFO32, Mini dump, event logs, host file, and Internet Explorer.
Windows 8 Log Collector has quite a self explanatory interface. The buttons are marked with the names of the log files that you can grab. Click any of the buttons (e.g. Minidump) to obtain the respective log files. If you would like to extract log files for all available log types, then click Grab all.
Once you select an option, the required log files will be placed in a folder named W8 on your desktop (which will be automatically created).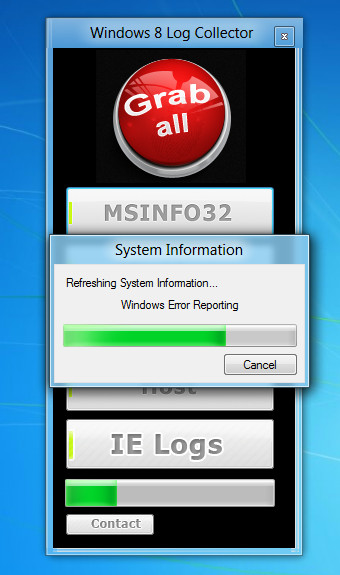 Note: Make sure you run Windows 8 Log Collect as Administrator, otherwise you will get an Unhandled exception error. You might also have to install .Net Framework 4.0 for this application to work.
Download Windows 8 Log Collector