Extract/Grab Text From Pdf, Doc, Html, And Other Documents
Do you want to extract some text from a PDF document? You probably want to extract the text because many software don't allow you to edit the document. If you want to grab the text from PDF, DOC, HTML or any other document, then you should give Text Mining Tool a shot.
It is simple software that needs no installation at all. Simple run the program and open the document that you want to convert to text format.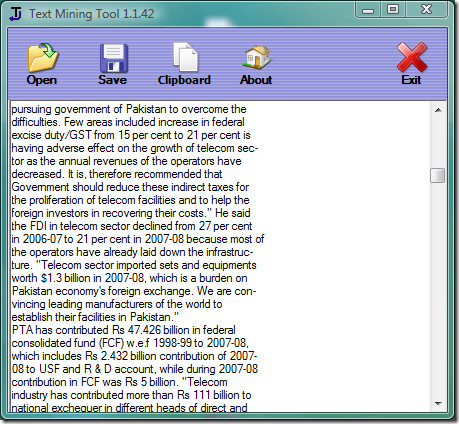 In order to edit this software click Clipboard button and paste it in any text editor, MS Word, Notepad, etc. Now start editing the text easily in your favorite text editor.
The following hotkeys can be used to perform the operations for the sake of convenience:
Open – F3 or O.
Save – F2 or S.
Clipboard – F5 or C.
Exit – F10 or Escape.
And if you are a developer then the included console tool minetext, which can be helpful for developers or system administrators, has such syntax to help you:
minetext <input file>

minetext <input file> <output file>

where:

  <input file>  - any file with one of the following extensions: 
                  pdf, doc, rtf, chm, htm, html
  <output file> - file you want to write text mined from input file
		
Alternative Method – Using Zamzar
If you don't want to download any software, then all you need is Zamzar. It is power packed online conversion service, that converts almost all formats to any format you want.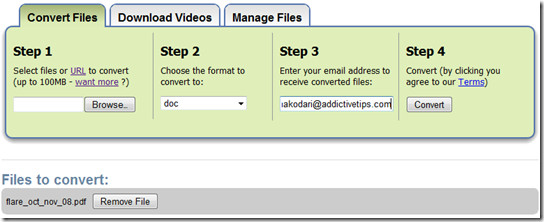 To begin Browse the any file that you want to convert, in step 2 select .doc format, enter your email and click convert. It will begin converting the pdf, html, or any other format you have selected to doc format. After the conversion is complete it will email you the download link from where you can download the file. It's that easy.
Enjoy!