Facebook Notifications On Desktop
There are two types of developers out there, one who hurriedly rush to release a program which eventually turns out to be an half-baked app, and other who try to complete the app before releasing it to the public. The developer behind Facebook Notifications comes in latter.
We have seen all sort of facebook alert and notification tools out there. Every new program we come across offer more functionality or better stability than the one we reviewed before. Facebook Notifications, however, is an opensource tool that is both stable and straightforward, with enough functionality to satisfy an average facebook user.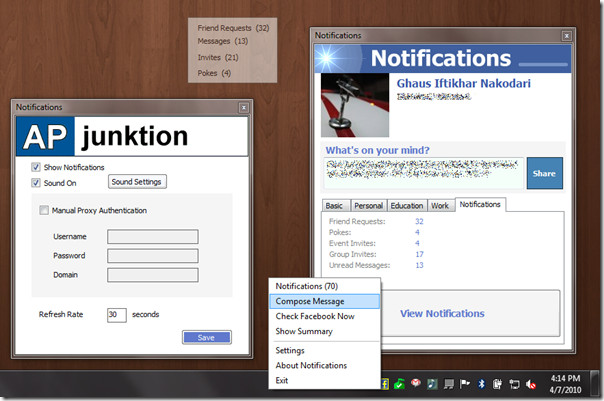 Once configured, you will find the main interface which shows the basic, personal, education, and work information, along with complete Notifications, including Friend Requests, Event Invites, Group Invites, Unread Messages, and so on. Users can also share a message quickly on facebook from within the app.
A small floating window helps in showing all Notifications if you are reluctant to open the main program. Latest notifications are displayed as desktop alerts and can also be accessed by right-clicking the app and selecting Notifications.
You can disable notifications, change sound, or enter the proxy authentication from Settings, along with an option to change the refresh rate(used to check for new notifications).
It is available for Windows only, we tested it on Windows 7 32-bit OS.
Download Facebook Notifications