Facebook Touch Is A Great Third Party Facebook App For Windows 8
There's no doubt that Windows 8 had been developed with portability in mind. iPad's success is essentially what prompted Microsoft to make its mark in the tablet market. The Windows Surface slab may represent the bleeding edge of the tablet tech but the total number of apps at Windows Store is fairly underwhelming when compared to the iTunes App Store (or Google Play, for that matter). One major app that is yet to show up is at Windows Store is Facebook. Even though there are rumors of an official Facebook app being in the works, there hasn't been any official word on it from Microsoft or Facebook. On the bright side however, third-party Facebook apps have started appearing to take care of your social networking needs for now. Facebook Touch – as the name implies – is a touch-optimized Modern UI Facebook app that works like a charm with both touch gestures and conventional mouse controls. It supports pretty much all Facebook features and can be snapped to the left or right of the screen for seamless multitasking.
To download Facebook Touch (or any other Modern UI app), open Store from Start Screen, type the app's name in Search Charm and press enter. From the search results, select the app and click Install.
When you first launch the app, you will be required to log in. Just enter your email and password, and click Log In to start using the app.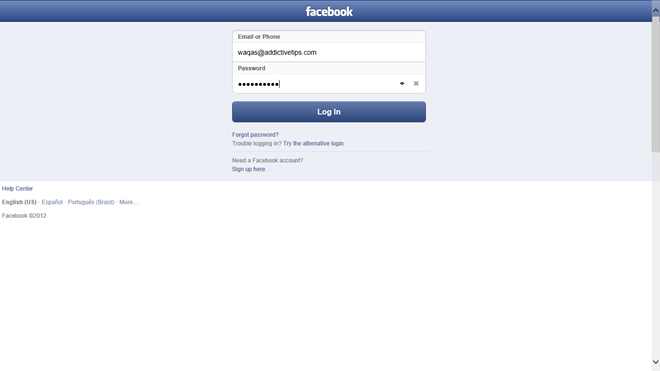 While the interface might not look simple enough at first glance, it is quite well-designed. You will notice the absence of the tile-laden pure Modern UI look but the navigation buttons present at the top provide easy access to all Facebook features including News feed, Profile, Chat, Messages, Notifications, Events, Friends, Search, and Settings. There's also a More button to the left that brings in a small menu holdind all the aforementioned controls along with Facebook apps, groups, and some additional options. You can update your status and keep a tab on what's being shared by your friends and family, as well as the pages you may have subscribed to.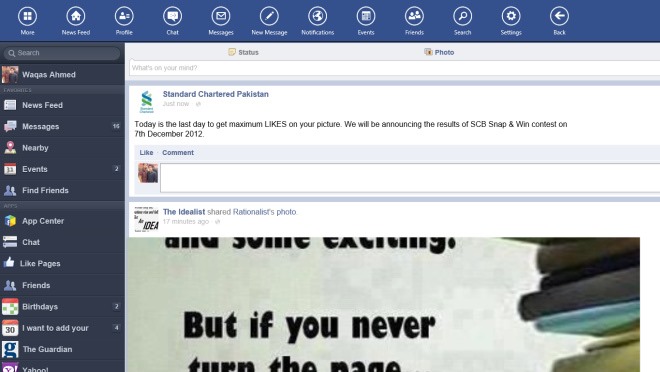 You can peek at your own your Timeline by clicking Profile. During testing, I noticed the absence of the cover photo on my profile as shown in the app, despite having one added in Facebook. The profile section allows you to access your wall and photo albums, check-in at places, and instantly update your status. The Chat and Messages sections also work like a charm, apart from one minor caveat that the app doesn't really notify you for incoming chat messages, requiring you to manually check for them.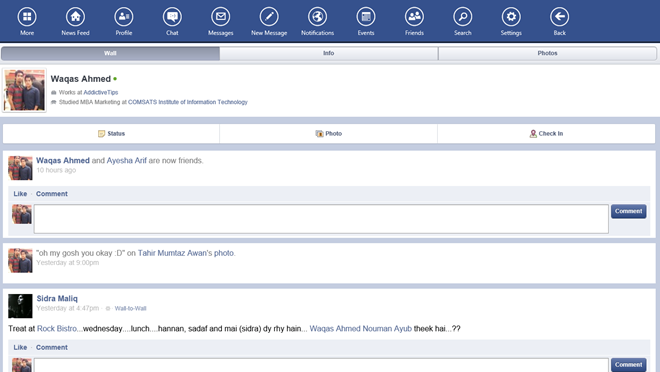 The Notifications system works flawlessly for all your regular Facebook notifications though. To change any account-related settings, you can click the Settings button at the top.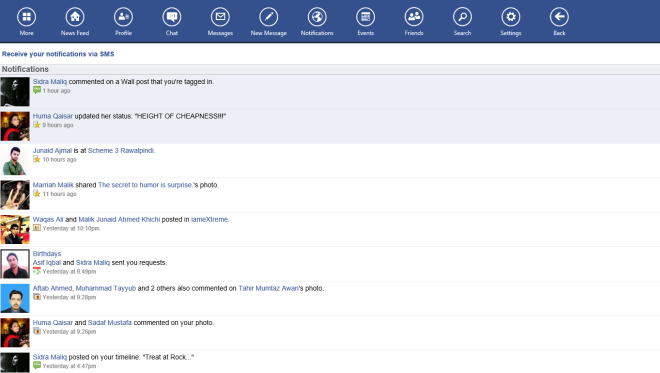 Facebook Touch works on Windows 8 and Windows RT. Testing was done on Windows 8 Pro, 64-bit.