FBFlicker: Create And Share 3D Photo Albums Out Of Your Facebook Images
Who doesn't like sharing photos on Facebook? The social networking giant's arguably the most popular feature is perhaps its photo sharing capability. However, if you think that sharing photos in a conventional Facebook-style manner isn't your cup of tea any more, and those snaps you took during the vacations need some special treatment, then FBFlicker is probably what you need. It's a small utility designed to let you create 3D photo presentations of your Facebook photo albums within the web browser. The application provides an Adobe Flash based UI, which automatically integrates with your Facebook albums so you can easily create photo presentations for all your existing albums. There are five different 3D effects (as of now) that you can play with, along with changeable album background color. Is it worth a shot? Let's find out.
Please note that during installation, the setup tries to download and install ALOT toolbar as well as set A LOT.com as your browser's default homepage. This, however, can easily be avoided by unmarking both the checkboxes.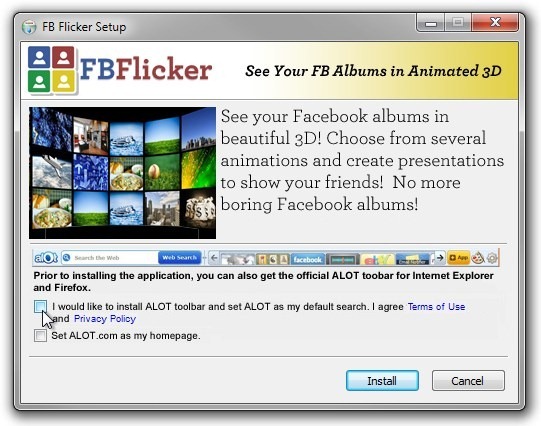 The application doesn't have any desktop client or anything. When the installation process finishes, just head over to any of your Facebook photo albums, and you will see FBFlicker button embedded there.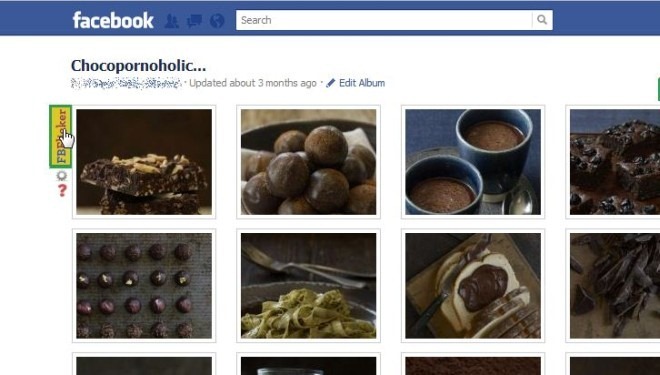 Click the FBFlicker button to launch the 3D viewer. As we stated earlier, you can view your album using five different 3D styles, namely 3D Curve, 3D Grid, 3D Carousal, Space Slide and Scatter, all of which are accessible through a sidebar to the right.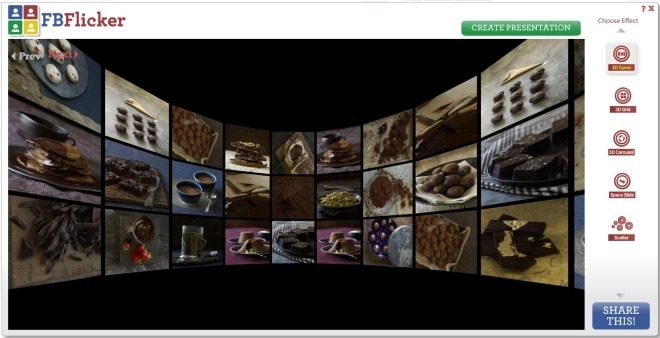 You may also click Create Presentation button at the top right to share the 3D album with your friends. It also let you make a few changes before you share them album, such as applying one of the five aforementioned 3D effects, as well as changing the background color for the theatrical viewer.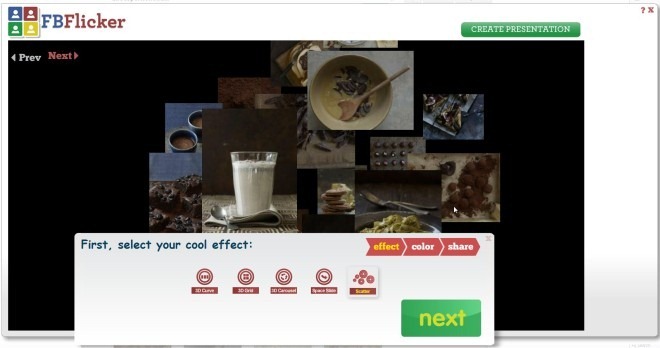 When you've done tweaking your album, simply click Share to open up a small panel from where you can share the album on your Facebook wall or send it by Gmail, Yahoo! Mail, Windows Live Hotmail, Local email or any other client. Do keep in mind that anyone you're sharing your album with, will also require FBFlicker to view the photos (installed as an extension in Google Chrome during our testing).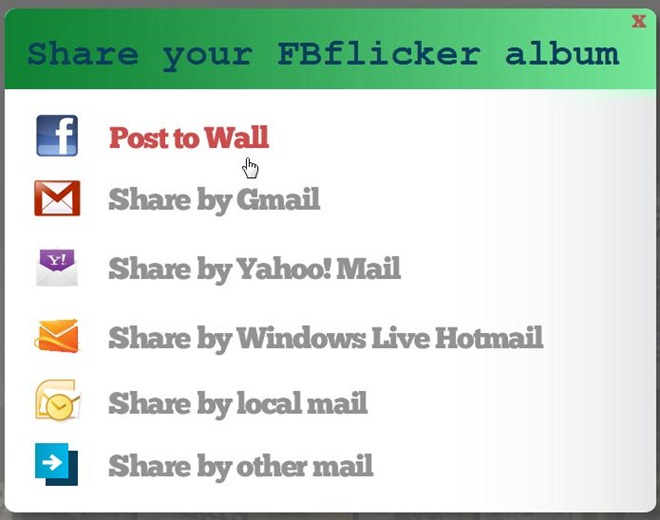 FBFlicker is available for free and works on Windows XP, Windows Vista, Windows 7, and Windows 8, supporting most major web browsers. Testing was done on Windows 7, 64-bit OS edition.