FCleaner: Clean Browsers Junk And Optimize Registry And System Files
If you've been using the system which hasn't been scanned in a long time then it might contain tons of clutter, redundant registry files, browsing traces and cookies. Even though many tools have been developed to clean up the system and offers multiple solutions along. FCleaner is one free powerful tool built to clean up your system from all sorts of clutter. Primarily it is designed to clean and optimize registry & disk usage by removing superfluous content. Apart from merely a disk optimizer, it includes multitude of features, which will let you perform other Windows build-in functions like; Application Uninstaller, Startup Manager, and lot more.
The interface is quite simple as far as the usage is concerned, from the main navigation bar, you'll see three tabs namely; Windows, Browsers, and Application Plugins. You can start off with cleaning elements from the required tab. For removing redundant Windows' elements content, under Windows tab, enable/disable required options and click Run Cleaner right away, we'd reckon you to first Analyze the system to generate a general report of all junk content including Windows elements, Browsing traces including temp files & cookies, and Application plugins files. In center pane, it'll list down System and Windows Explorer content, under Browsers it will show all the junk of browsers being used, from Application Plugins, it will show all the non-compatible plugins files.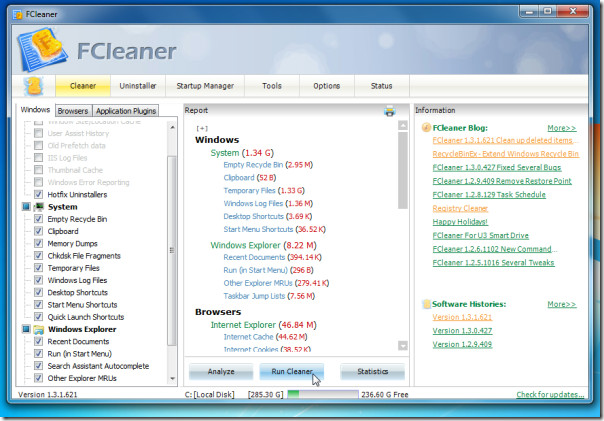 Once detailed report is generated, run cleaner to remove all the superfluous content in one go. As aforementioned it also contains other complementary build-in Windows tools to quickly uninstall an application, startup manager to enable/disable program from Windows logon, etc. Under uninstaller tab, it will show all the installed application to let you quickly uninstall them, under Startup Manager, you can manage, enable/disable startup applications, under Tools tab, it will list down other important build-in Windows tools like; System Restore, System Information, Command Line, and Task scheduler.
To configure advanced settings, click Options tab to bring up application settings window. You can configure General options, Browser cookies settings, customize cleaning options, etc. From main window, general application settings can be configured which includes; language settings, set deletion type, schedule application cleaning tasks, etc.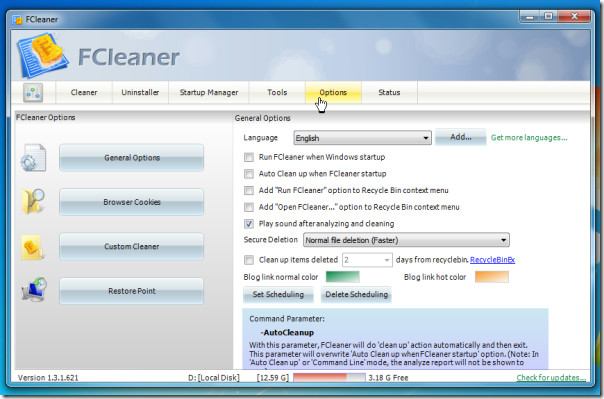 It is one full-fledged cleaner which is efficient in analyzing and cleaning unused, unwanted redundant files from the system, if you've been looking for one-stop solution which is efficient & effective in sprucing-up the system, try this application out. We can't compare it with CCleaner since it is far more advanced than this tool. If you simply want to clean the system, go for CCleaner, otherwise if you need an uninstaller, startup cleaner, and more such tools, you can give FCleaner a shot.
It runs on all Windows based OS, including the latest Windows 7. Testing was carried out on Windows 7 x86 system.
For more, you can check out Registry Life and DiskMax.