File Brick Is A Local, Network & Cloud Files Manager For Windows 8 & RT
Not too long ago, the storage space available in most PCc used to be quite limited. We had to choose to keep only the more important files, and often delete the huge ones that didn't require frequent access, or burn them to discs. With the massive surge in hard disk capacities and decrease in per-GB price over the past few years, personal computers can now save terabytes of data and thus, the need to delete old files in order to copy or create new ones is no longer a concern for most of us. Moreover, other than local storage, cloud storage services, such as Dropbox, SkyDrive and Google Drive allow you to save, access and retrieve your important documents from the cloud anytime. In order to view and manage all that data, we need a good file manager. We have covered several third party file managers for Windows 7 but when it comes to the new Windows 8 modern UI, there aren't a lot of options on tha table. File Brick is a file management app for Windows 8 that allows you to explore both locally saved files, and those saved on different cloud services including, SkyDrive, Dropbox, Google Drive and Facebook. More on File Brick after the jump. In order to get the app, go to Windows Store, search for 'file brick' and hit enter. From the search results, select File Brick to access its main page, from where you can install it.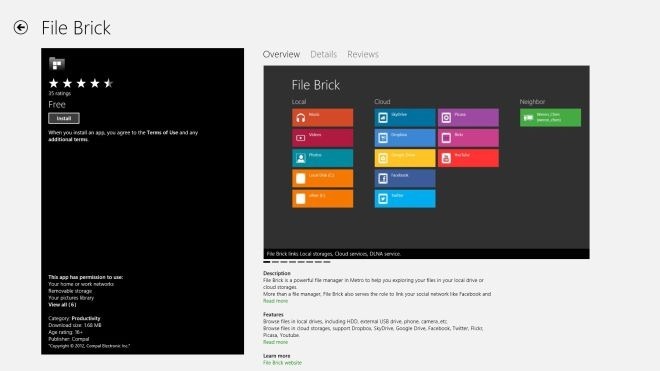 The main interface has multiple shortcuts for accessing different storage areas locally, on cloud and on the network. By default, the Local section has Music, Videos, and Photos options available. The Cloud section lets you access all your data saved in the cloud. Note that SkyDrive, Dropbox, Google Drive and Facebook accounts can be accessed from the free version, while the paid version also lets you connect your Twitter, Picasa, Flickr and YouTube accounts. The Neighbor section lets you access the other computers on your local network, and the content shared by them.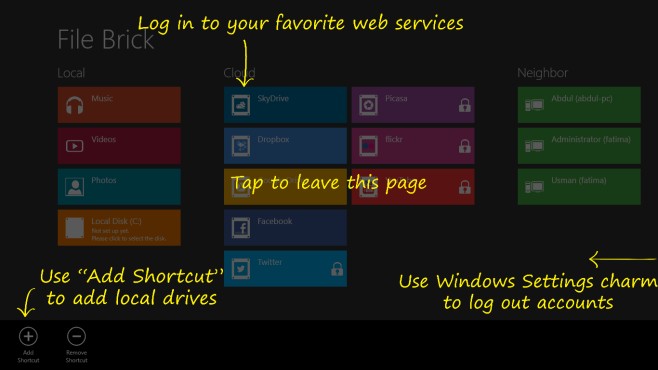 Note that the first time you access any local drive or connected USB drive, the app will ask you to specify the default folder to open each time you access that drive. Once selected, you will be presented with the contents of the disk in a pretty fluid, tile-based Modern UI interface. You can click on 'File Brick' from anywhere to quickly jump to the main page of the app. At present, you are only shown you the name of the drive on top regardless of the folder you are currently in, and it would have been nice to see the complete path there, preferably in a breadcrumbs interface to make navigation easier.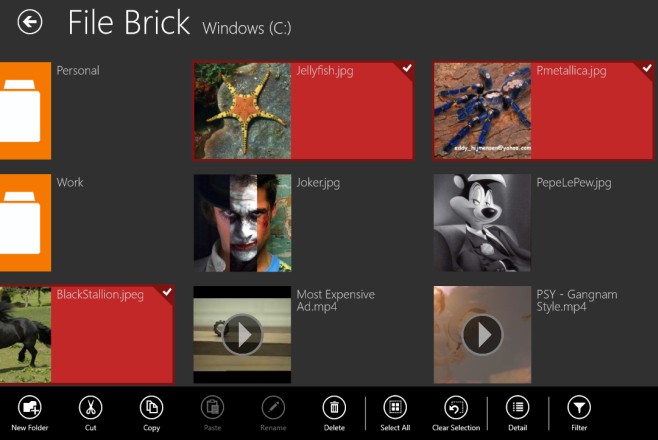 In the file manager interface, you can select items by right-click, or by flicking them slightly up or down with your finger on touchscreens. This will bring up the standard app bar at the bottom, allowing you to perform all sorts of file management actions. You can add more shortcuts for any local or network folders to the main interface by choosing Add Shortcut. Moreover, you can create a new folder, cut, copy, paste, rename and delete existing items, view details of a selected item and apply search filters for viewing  specific types of files.
From the Settings menu, you can specify the cloud storage accounts that you want to be available on the main interface.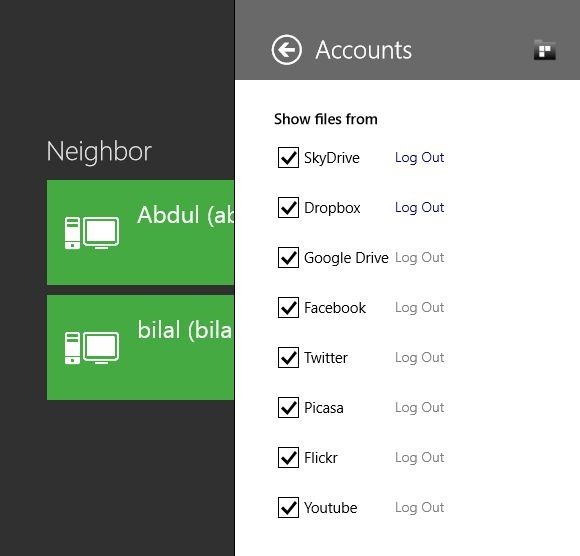 In order to view the contents of each account, you will have to allow File Brick to access each one of them through their standard authorization procedure.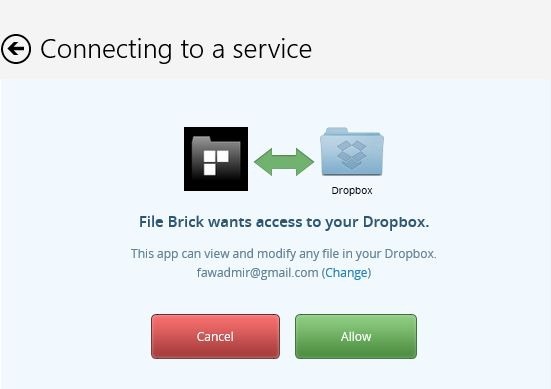 File Brick works on both 32-bit and 64-bit versions of Windows 8.
Get File Brick from Windows Store