File Name Tag Explorer Allows Automated Tagging To Search And Perform Different File Operations
File Name Tag Explorer is a portable file managing application, which creates tags using names and extensions of your files. Upon selecting any folder from the application, a list of all tags is created and shown on the main interface. The application helps you search files using their tags instantly.
You can select any folder(s) from the main interface by clicking the + button. Navigate to the folder and open it. It will automatically generate tags using file names and extensions of all files present in the selected folder.To view files for a particular tag, click on that tag. The list of files will be shown in the list to the right. Also, you can narrow down your search for a particular file using the Tag Filter option. Click two or more tags having the file name or extension of the file you're looking to search. The list will then only display files which have all of the selected tags. User Defined Tag option will enable users to add custom tags to search files.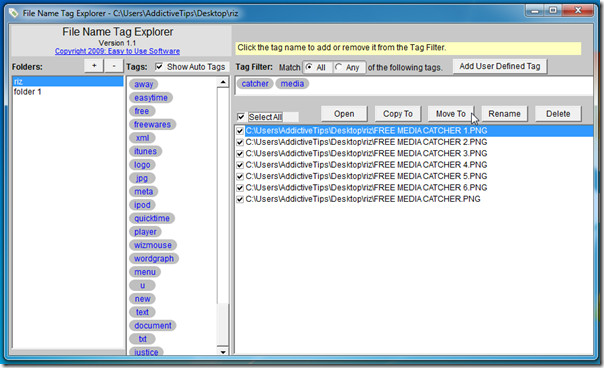 File organizing options include copying or moving the selected files to another folder. You can also rename or delete the selected files. It is a helpful application, which can be used to search large sized folders. Even if you're not sure about the file name or extension, you can sift through the automatically generated tags to search for files quickly.
It supports Windows XP, Windows Vista and Windows 7, testing was carried out on Windows 7 x86 system.
Download File Name Tag Explorer
For more, check out TaggedFrog And Tag2Find