File Punter: Organize Files Into Dynamically Generated Folders
I am sure that we all have one folder in our PC where we download everything with a mind to sort out the files later. We keep thinking about sorting the setup files, images, songs and documents into their respective folders but never get the time to do so. As a result, whenever yo want to locate a previously downloaded file, you have to go through heaps and heaps of files of different types.  If you manage your download files and put them in separate folders as soon as they are downloaded, you will not have that much trouble to find the required files. File Punter is a portable tool that lets you automate the process of organizing files into defined groups. Supporting regular expressions and wildcard entry filters, File Punter allows you to define the range of files that you want to organize into different, dynamically generated folders, i.e., MP3, WAV, AAC, FLAC to Music, WMV, MP4, AVI to Movies etc. Using regular expressions, you can specify the folders which are to be created during the process.
On the main interface, you have New, Open, Save the active file, Add Entry, Delete Entry, Move Selection Up/Down and Save as CSV file buttons. First off, create an entry by clicking the add button in toolbar.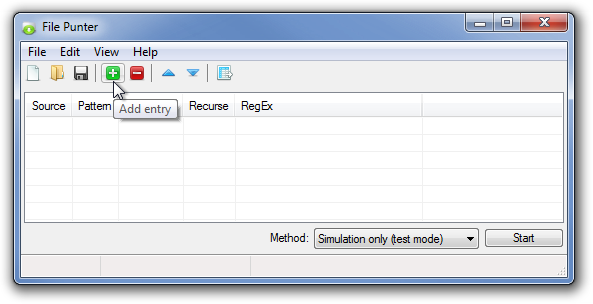 Upon click, Entry dialog will appear. Now specify the source and destination folder. In Pattern input field, enter the file name pattern or add regular expression that you wish to use. For instance, if you want to move all .JPG files from source to destination folder, enter *.jpg. Likewise, you can add file patterns according to your needs. When finished, click Add entry..

Similarly, you can create entries for different types of files. When all entries are created, choose either copy or move from Method drop-down menu, and then hit Start to begin the process. Alternatively, you can choose the Simulation mode to view all those files in source folder that will be copied or moved to destination folder.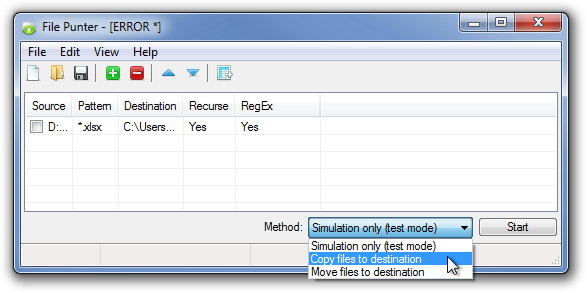 File Punter is a portable application that works on both 32-bit and 64-bit versions of Windows XP, Windows Vista, Windows 7 and Windows 8.