File Remover – Forcibly Remove Any File For Which Access Is Denied
What is the best way to delete files, which are because of some unidentifiable reasons, being used by system? You may have come across such situations a lot of times when Windows restricts deleting files of an already uninstalled applications, files associated with surreptitious program in memory, and other system shared files. When you attempt to remove such files off the system, you get Access Denied or File is being used by other application in memory prompts. One solution to get rid of these files is to reboot the system and close down all the auto-initiated user instances before deleting locked files. If you don't want to reboot your system each time you come across Access Denied prompt, use Any File Remover,which is a small application to forcibly remove the files.
The application offers a simple interface with only one option to delete the user-selected file. You just have to specify the file which you wish to delete and click Remove to let it permanently delete the file from your system.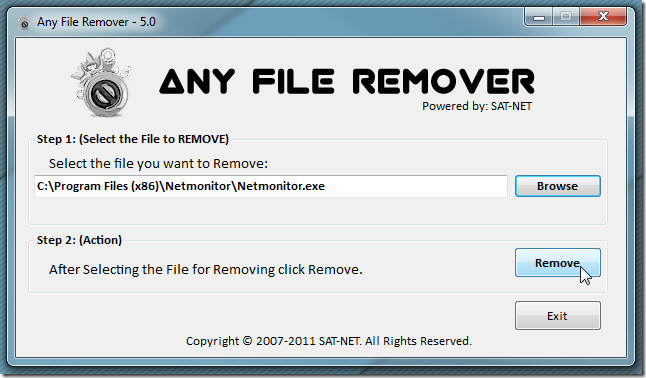 The application is specifically designed to delete files for which you see Access Denied and File is being used by another application prompts and may not work in other known and un-known cases. It works on Windows XP, Windows Vista, and Windows 7.
This application is guranteed to remove your locked files but if for some reason it fails, you can try using LockHunter or Remove With Batch.